MEGAYACHT GALLIES
You have untied the ropes beginning the slow quest away from the shores. You have your dearest with you or lonely with a loved one in your mind…
The world on the shores is slowly shrinking in size. Houses, trees, cars and the ones waving at you if you are lucky… Everything beginning to diminish and disappear.
When you leave the world you are used to behind and stare at the opposite, just then your bluest life begins in which you have the permission to look to the horizon forever and ever. An eternal life where time has no meaning! Because sea is timeless.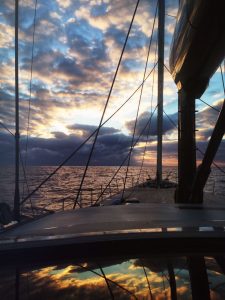 During long sea cruises or ocean crossings, your destination is not the only thing determining the length of the journey. You are in a time travel as well. In other words, you also pass through the time zone difference between your point of departure and arrival. Although today technology comes to our aid in all kinds of manners, it cannot reach the magnificence of the vast waters. If you are too far from land, your smart phone's clock does not update automatically. These famous devices can only show the time of the harbor you left behind.
While crossing the Atlantic we set our clocks ahead or back one hour every two days. (Naturally, depending on which direction we are going) Nevertheless, the time zone hardly settles. Sometimes it seems that the sunset comes to early or too late. Of course, this affects our sleeping cycle as well. My soul suddenly wakes up at 5 in the morning or maybe at even 3 at night. Not to mention the rocking of the ocean and rolling of the sea… The merciless ocean makes you see weird dreams because of this constant rock and roll.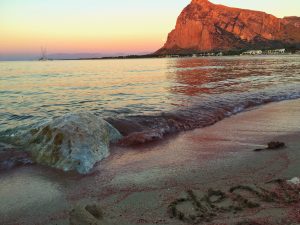 And at those times you lose your inner time perception. Besides you can never say the exact time at that part of the ocean you are sailing on. You think about what time is it for the people you are talking in Europe or America, but it never clicks… A 'momentary sense of loss' engulfs you so deeply that you begin to wonder which year – which age you are in. No, I am not joking. Time, the sole bridge between your past and the future – the only witness to your existence – and you are deprived of it in an instant!  So, how can it be important if the year is 1982? Or 2017? It cannot.  There is only you and now. Then you understand sea is timeless. The sea does not tell you about the passing years. That endless blue was there before you exist and will stay there after you go. And this is one of the miracles of life.
Hope you will always remain on sea and one day remember these words while looking at a sunset…