The St. Tropez of the Caribbean
MEGAYACHT GALLIES
Its name is Saint Barths! The St. Tropez of the Caribbean, the fashionable Caribbean island that people never stop speaking of pointing the coast Leonardo Di Caprio walked, Tom Hardy did a somersault or Beyonce blinked at that corner…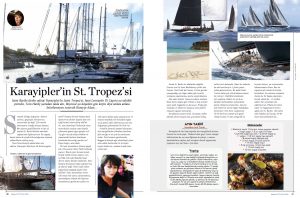 It is true that it is classy and fashionable. I do not know the history of the island, and in truth, I do not care. If you are really curious about it, Uncle Google is always at your service.  I am interested both in the beauties of the island and its regatta named St. Barths Bucket. This regatta is a great race of superyacht sailing boats and we sometimes participate to it.
Let's talk about the Caribbean islands first. What comes to your mind first when the Caribbean islands are mentioned? Is it the beaches with crystal waters where the Caribbean Pirate Captain Jack Sparrow drank rum until he could stand no more, or is it the rich wild teenagers in American movies again moving from one place to another with their speedboats? Or the beach parties where men like Adonis and supermodel girls dance? All of these are true but incomplete.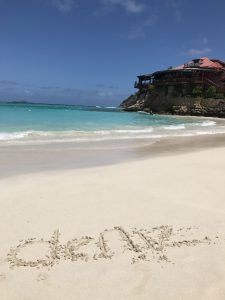 For one thing the time of the pirates is long gone but their spirits still linger here. Many parties are pirate themed, many venues are pirate logoed and rum is still the national drink! Take my word, it hits harder than raki… So the scenes in the Caribbean Pirates is not actually exaggerated. The islands where locals live most is a little bit dangerous. There are some islands where you should not walk even 100 meters or take a taxi alone after it gets dark. I am not joking when I say 100 meters. Even in that short distance, you are waited by an audience who are all eager to chop you down just for a cigarette or the smart phone you are holding.
The constant smell of fried potatoes, Jamaican Jerk chickens roasted on barbecues and marijuana cover the streets. In other words, in the ghettos of these islands, it takes gut as a European to make an appearance at the backyard bars playing a mix of Reggae and heavy street Rap.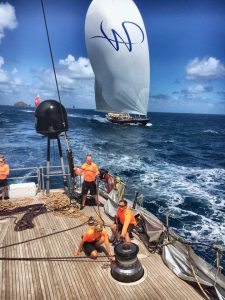 However, St. Barths is not one of these islands.  Its French name is Saint Barthelemy, because the island is under French rule. The locals are French as well. As the cruise ships do not visit the island, the touristic degeneration has not happened here unlike the other islands. The island is small anyhow. Gustavia is the island's center. It is like our Alacati. Local stores selling exquisite and expensive products or brands like Gucci and Prada, and of course restaurants of world renowned chefs.
The accommodation tourism is different. Instead of building huge hotel complexes, accommodation is limited to a number of small but very expensive hotels. That's why the island is not spoiled. Because you cannot afford you cannot come. It's that simple! Tourism is mostly based on renting villas. Villas especially built for renting are available or landlords rent their own villas when they are not staying. But you cannot imagine the extent of this tourism… These are very beautiful villas for which minimum 5 thousand, maximum 30-50 thousand Euros per week can be required. And of course when such wealth is present, one always has to mention yachting tourism. I was here both as a superyacht chef and a restaurant customer, and a guest in another superyacht… Therefore, I can talk about each and every face of the island.  Of course, the first destination for superyachts and megayachts is St. Barths. Both the grandfather of yachts more than 100 meters long and classy 50-60 meter sailboats are here.
THE REGATTA OF SUPERYACHTS
Yes, St. Barths Bucket, is a chic regatta in which these classy babes compete every year. When the island is that much classy, the races have class too with sailboats at that level attending. As I am not a very professional sailor myself, I cannot talk about the technical aspects of the race. For this, www.bucketregatta.com is the address. However, the thing I can talk about is the boats I see when I enter the marina. The beauties attending the race are always the prominent ones of the sector.
And I am lucky that I worked in some of them. For example, the Italian Perini made Perseus^3 which is a relatively young 60-meter long sailboat with a 75-meter mast and the world largest one piece sail (2602 sq.m) was the second largest boat in the race, and I happened to cross the ocean just last month. The largest boat was the extraordinary super sailboat Maltese Falcon, which we Turks are very acquainted with as it was built in Turkey.  It was one the boats participated to the race with its 88-meter length and unbelievably large sails. Just adjacent to it was another Perini Navi beauty, 56 meter Rosehearty, which is a bit older than Perseus, but just as exquisite with its white body extending… I worked with them as well even it was for a short time. One of the frequenters of the regatta, Unfurled, a boat I was requested to work, Escapade and J class Topaz, from which I was requested as well… Many famous boats like Lionheart, Koo, Aquarius and Nikator, performed greatly in the race. And our duty was to have fun in the after party.  Now I am leaving you here to attend to the ongoing party in front of me and enjoy my wine. Bon voyage to all…