The Well-Trodden Paths of Patmos
MEGAYACHT GALLIES
Sometimes you find yourself at a time you never imagined, in a place you never planned to go and inside a story you never read before. But if you are smiling, you are already in the right place. I am at Patmos…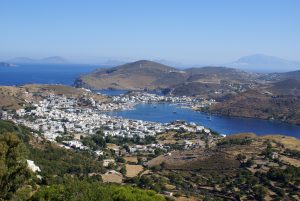 Where is Patmos? Take off from Bodrum, go 50-60 sea miles northwest, and exactly at your right after you turn left from the tavern at the corner! Joking aside (give or take 60 miles is true), as Patmos is among the Cyclades, the Greek islands like Kos, Leros, Kalymnos and Simi which are not among the popular islands like Mykonos and Santorini but which are close to Turkey, Turkish sea lovers usually prefer to visit. It is safe to say that if you wave your hand you'll encounter a handful of Turks, or even more…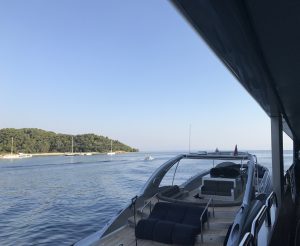 As I do not resemble boring history teachers, I will not talk about the island's past, which civilizations it was home to, who was put to sword, which loves it witnessed and have songs and poems written about.  However, a thing that needs to be known; it says in the New Testament that Jesus himself appeared to John when he was in exile in the island so a monastery located at the highest point of the island (having a scenery that will make you wish you are exiled there) dedicated to John and named St. John Monastery which has been included in the World Heritage List in 1999 by UNESCO, plus the Apokalipsis cave where it is cited that John saw Jesus; these are the two historic places to visit.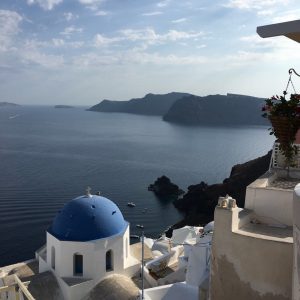 Once under the Ottoman rule, it was handed over to the Italians in 1912, and only after the Second World War, the Greeks were able to take it back.  The part I am interested in is naturally its culinary culture. I cannot say specifically whether the cultural interactions were reflected in the foods when the island is under Turkish and Italian rule, or not. As the island is not a crazy popular island; its great beauty is untainted. There are no zillion restaurants. It is what it is…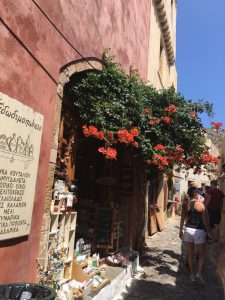 And there are two places you should definitely not miss. One is called Jimmy's Balcony located near the Monastery, in other words a restaurant like an eagle's nest at the highest point of the island. As the name suggests, Jimmy built himself such a balcony that you will hardly find a view more beautiful than the one the restaurant has. The food matches exactly to the Turkish taste. Delicious, classic Greek cuisine. There are hardly any Turks that Jimmy doesn't know. Of course for each and every Turk with an impeccable taste (especially boat owners), Patmos is the first address among the Greek islands, and all of them are friends with Jimmy. Jimmy is friends with them all as well.
The second venues was a little bit romantic… Benetos. A restaurant at the shore in one of the most pleasant bays of Patmos. One small step for man, one giant leap for gourmet Patmos visitors… I am not talking about the level of style you will see at Michelin starred restaurants in New York or Rome. Because the reason for visiting Patmos is not that kind of stylishness.
And Benetos creates a dazzling atmosphere in this sweet Greek island, with its constant sea breeze, the beauty of its wines, the deliciousness of its food and the classiness of its dishes. And if you have someone sitting right in front of you and sweeping you away with a direct look to your eyes, you can complete the melody of the night…