The title is for a remembrance of Hemingway's A Farewell to Arms. The novel narrating a love story during war in Milano, the city I happen to live in. But my farewell is not to Italy that I love or to the seas, it is a farewell to my previous yacht, Wally.
Right now we are in the small french coastel town of La Ciotat trying to finish our final preparations before crossing Atlantic Ocean. Afterwards all abroad for the Caribbean.
However this time I will not be on the Wally that I have spent two years in but a 42 meter sailing yacht made by BLOEMSMA VAN BREEMEN Shipyard of course being as exquisite as my Wally. The small and sweet shipyard town of La Ciotat and our Atlantic crossing will be the subject of my next Article. Now, with the most beautiful memories behind me, I want to narrate the days I spent in Wally.
Once again a year has passed from our lives. It was a year that I will remember with joy, longing, and passion, and looking back I will say "Vow, those were the days" when I return to a calm and quite life. Before beginning new memories, I want to commemorate the days of Wally so not to forget it.
As my readers well know, I spent the winter of 2014 on various yachts in the Caribbean, and for the remaining most part in Wally as last year. Some ask how I do spent eight months on the same boat. For some it is a very hard prospect. But this is what creates the shiny memories. When you think about it, what makes the sharing, the communion you experience on a boat different from the friendships and time spent in an ordinary job is the sea. The sea is the reality. The sea is your agelessness. The sea engulfs you with all these emotions and the persons with you during that time make an eternal impression on your life. Of course if you are lucky enough to be along people with beautiful hearts… I was lucky. The good personalities of my colleagues also added to my joyful and significant memories.
My first year on Wally was spent in the famous Greek Island Mykonos and the surrounding islands. And we spent this summer in the French Riviera including primarily then Monaco and the beautiful Southern French coasts, and we spent the months of July and August in Corsica and Sardinia. In my previous articles, I introduced Cote D'Azur inch by inch and spoke a lot about Corsica, the island of the pirates. But this summer we sailed mainly around the southern shores of Corsica.
From 10 knots to 40 knots in 5 minutes
Naturally, I need to tell you about our sailing before reaching to that destination. We embarked from Portofino towards Cagliari, the capital of Sardinia and arrived Porto Cervo after a nonstop 32 hours of trip while we took the steer in turns. As you remember from my previous articles, Porto Cervo, is the coolest shore of Sardinia Island. Meaning that, the most luxurious, the most expensive and the most elegant locations are here. And the biggest superyachts from all around the world, too. And as we are not fond of photographed constantly in marinas, instead of Porto Cervo, we harbored in Portisco near Porto Cervo and after two days of rest we headed for and arrived at Cagliari. But how we arrived was a thing to reckon! In the first hours we sailed calmly in good weather, we were caught up in a mother of storms during passing the Cape of Cala Caterina near Cagliari.
Of course we knew the weather would go bad, but it was earlier than expected. After the wind went up from 10 knots to 40 knots in just 5 minutes and the waves beat our boat entirely soaking the deck and while our captain, John Schiavo and crew were trying to stabilize the boat with their sailing attires covering them up to their noses, I was busy with falling from everywhere inside. Then we returned in order not to break the mainmast. But we were stranded at the entrance of the Cape for 2 days. This is how it is like to be on the seas. You experience the moments of adrenalin peaks together, and the moments when you were stuck on a shore watching movies and not speaking at all…
Everything was dead calm when we reached Cagliari. After resting a bit and concluding my shopping for the trips that our boss will participate as well, we left Cagliari and spent three weeks at South Sardinia. Although not so much popular as Porto Cervo, South Sardinia is like Maldives with an unbelievably beautiful and cyristal clear sea where surfers rule. Some regions of South Sardinia welcome you with snow white sands. You will not be able to find crowded and hip restaurants even in residential areas.
Therefore, life was harder to me. Because as it was impossible even to find a decent tomato among vegetables that the flies were dancing on in desolate convenience stores at towns quiet and deserted just like in movies, I had to work miracles for my boss who was saying "there are no good restaurants, your food is much better" and preferring to eat on board for breakfast, lunch and dinner. However, to be a yacht chef means exactly that! Having an intimate knowledge of the markets in your destinations and creating delicious food no matter the conditions and ingredients you can or cannot find in these shores.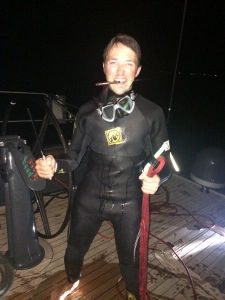 After our long sailing pleasantries around these shores, one again our boss left, and we headed towards mainland. We had various adventures, for example, in one of our long night cruising, our keel was stuck in a fishnet left during daytime and of course we stopped. While my colleague dived and freed the boat from the fishnet in the pitch black of the night, smoke came out of the engine room and there was our panic "Oh my God! Are we on fire?" While they were trying to fix the engine, my contribution to the adventure as I was at steer for countless hours trying to reach to the closest shipyard in a windless day solely with balloon sail… We survived all. If you take into account that we were also stranded in Ajaccio, the Capital of Corsica due to bad weather, we returned to Italy in one and a half week.
The sea walking of the crew hanging on the sea by tying themselves to mainmast around La Maddalena Island, one of the northern extensions of Sardinia Island, a little bit of wine or beer and snacking from my mini aperitivo plate I prepared accompanied with good music while cruising towards the magnificent crimson of the sunsets towards evening, in our stops the mini sailing races with remote controlled model sailboats handled by our crew who were as sweet as little children but as serious as being in a professional regatta, and enjoyable dinners we had together were our little entertainments. Yes, life was beautiful to us during those moments…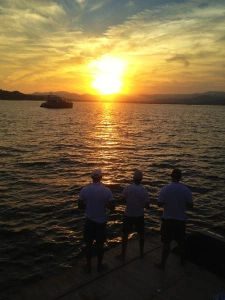 I have written about all these moments not only for you to read but to add to my history as well. These moments will always be a part of me. Because that part of my life is over. That yacht will continue to set sail next summer but I will not be there to see it. That crew will not come together again. This is the sad part of our business.
Each summer is beautiful and each summer is a memory. The memories always stay with us but boats will certainly be sold one day and it will become impossible to return to those moments on that boat ever. Now, I am on a new boat setting sail towards new memories.