Naviga yacht magazine and Sabah newspaper interview
The "Kitchen" of the envied life and subtleties of existing in super yacht world is told by Deniz Kurt, chef of a Wally sailboat. When her love for good food and wine met professional ambition and determination Kurt found herself onboard of legendary brand Wally and she says contrary to the kitchens on land, women chefs has more advantages at sea.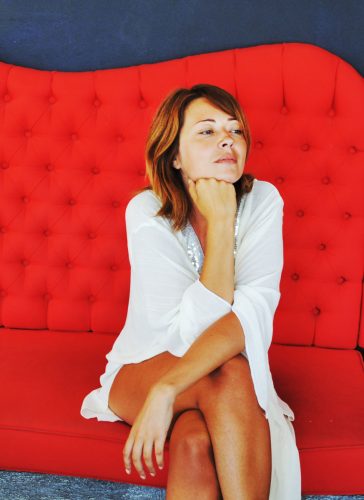 Deniz Kurt tells her story with pleasure because she's passionate about "taste" in every aspect of life. Though she calls it "fate", what made her combine her sailor side with passion for cooking is a result of her carefully planned steps. The young and talented chef whose super yacht adventure began with 43 meters is quite likely to take it up to mega yachts of 100 meters, is at the galley of sailboat she calls "our Wally", creating wonderful tastes looking over Cote d'Azur views. And happy news from us; soon you will be able to read those tastes from Deniz Kurt's own in Naviga.
Working in Italy, especially at il Marchesino, must have broaden your horizons quite a lot.
The importance of il Marchesino is not just being at the heart of  Milan, in La Scala Opera building. The owner of the restaurant Gualtiero Marchesi is also the dean of the cooking institute I've attended and a chef Italians adore. He's 83 right now and known as "the maestro of chefs". He introduced the Italian cuisine to the whole world by modernizing it, he's the first one to receive a Michelin star in Italy, then first to receive 2 and 3 Michelin stars; and later he said "I don't need to be appreciated any more" and became a first in Michelin history by giving back his stars. Of course being accepted there was both a big chance and something I deserved. I didn't only learn the perfect traditional Italian cuisine, I also saw the best of Michelin system. I've never worked in Turkey but I've always pursued good food and wine; both in Istanbul's finest restaurants and in the simple cheap restaurants which reflects the best tastes in Eastern Anatolia and Mediterranean cuisines. So, I've always dealt with palate first, then with practice. Working at Marchesino and then at Nobu, opened me the doors of the world cuisine. That's where the real taste lies.
How did you start working at yachts?
I've started with a 43 meters Ferretti. It's a great yacht. This year I continue with a Wally. Life is building itself in interesting ways, one can even say it's the fate of my name that got me into the yachts. My father was a man who never owned a car in his life but always had a boat, even if a small one, so I was familiar with the sea since my childhood. That's why I was named Deniz. It means "The Sea" in Turkish. When my father went for fishing bluefish at nights, he used to take us with him. I was only six when we filleted the horse mackerels alive we fished with a trawl line as bates. Then I've became a diver, I got a captain license. Every summer, I used to run off to Bodrum or Bozburun, Selimiye, Marmaris coasts in Turkey. And when cooking came into my life, the only place I could cook was the sea. I certainly believe this is fate. As for how I got the job as a chef in a yacht… These things are organized by agencies. There are lots of agencies in places like Antibes, Palma de Mallorca, Miami and Fort Lauderdale. They'd require you to have studied abroad, speak two languages, mastered specially in Italian, French and Japanase cuisines. It's not an easy sector. They certainly ask for Michelin experience, a strong restaurant experience. Looking good is also important, expectancies are very high. Being a yacht chef is usually mistaken with cooking in charter gullets but that's not the case. The sector I work in consists of super yachts that are used as charters or privately owned. From 30-40 meters of length to 150 meters.
What's the difference between cooking at yachts and at restaurants?
Cooking at a restaurant is completely based on the menu determined by the chef. The goal is making money by preparing the same menu according to customer count. However, in a yacht you only aim the taste of the yacht owner. That's the only aim! Owner of a yacht which costs a fortune, demands a high level cooking of course. And we don't check the cashier at the end of the day! The goal is sail to the sea, have a good time with good food, good wine, good champagne. So one of the most important thing is food. I've never became the head chef of a restaurant, so I had to be a chef who's loyal to the existing menu and orders. But in a yacht, I'm fully responsible. The amusing part is being have to create a new menu every day. Considering the season lasts at least six months, presenting a high quality, restaurant quality menu is a style even the restaurant chefs would find hard. So we don't cook pasta and serve it as a dish. They expect a strong presentation and high quality. That's why getting into this sector is hard, doubtlessly the wages are high. But restaurant experience is a must. Because a good restaurant teaches right organization. If I haven't worked at restaurants I couldn't have made it at a yacht. So I plan to continue my job by creating menus that are to please the yacht owner's tastes in summer and working at restaurants—even if without a wage—in winter.
Wally is one of iconic boat brands, how did the idea of working in this yacht present itself to you?
The moment captain said "Wally", my eyes were wide as they could get because they're really special boats. Our Wally (that's how I'd like to call it!) is a sail super yacht. Its interior as well as its outer appearance is much more different and luxurious than the sail boats you usually see.
What kind of a crew will you work with at this boat?
We don't have the kind of crowded crew as in motor yachts. We have a highly experienced captain. I'm there as the crew and the chef. Because there's a full crew in yachts longer than 40 meters, there's a head chef, a sous-chef  and a crew chef. I can also say I'm delighted in being chosen for this boat where all the crew is chosen with great concern, instead of a Italian chef they could easily employ. The family owns five more yachts one of which being a mega yacht. So I'll be with them when they are in other yachts. So I will be able to share my experiences not only on sail yacht cuisine but also on motor yacht cuisine in my later articles for Naviga.
How is life for a cook on a boat? For example, you might not find the ingredients you look for in every port, how do you provide them?
That's what they call the yacht experience. For example the Italian side of the Adriatic is loaded with basil, you can't find easly in West Greece side. Dills are different everywhere. Bread, pasta, cake, everything you cook with the flour you buy from a country turns out different from the ones you buy from another. You need to know very well which markets you can find in different ports, different shores and what you can buy from them. Especially fresh fishes, good quality meets etc.. The life is impossible for someone who doesn't like the sea. It sounds like a very colorful job but you have to work 15-18 hours a day. Because the breakfast preparation; for yeasting bread, pastry, brioche you wake up at 05:00-06:00 am. Then comes lunch, high-tea, appetizers time, dinner and the day never ends. Finally you prepare the deserts for the next day about 01:00 am and go to bed. Space is narrow. Your living space is also limited. The nice side is looking at a calm sea at dawn, taking a deep breath of its smell, cooking with a constant changing view instead of the industrial equipment in the restaurants, to take a dive once in a while and to treat yourself a cup of wine at the end of the day whichever port you're at… What more can you want?
What kind of food do boat owners prefer?
Their first expectation is good Italian food. Because they also like Japanese cuisine, they're pleased I've worked at Nobu. It's pleasant for them; I'll gain experience in restaurants during the winter and create the menus they want for them.
Setting the table is also important, how much can you achieve this on a b
Actually setting the table is not my job. There's another crew for that. Stewerdesses. My job is to manage the process until the serving on plate. Besides, I don't have time for that during 'a la minute'. It's a part of the job I take joy in, when I barely have time.
What kind of career goal is being a chef at super yacht?
It's an exceptional job. Only the ones who know that life can understand this. Career goal is to always improve yourself, continually create and renew menus. If you're successful you hit the target. That's the way I try to take. There are very successful, famous yacht chefs in the world and most of them are women. Contrary to restaurants where women chefs are not preferred because they're thought to be sentimental, can't work, can't handle hard work—which is mostly true but what's easy about being a chef—at yachts being a woman has its advantages. It's important in yacht sector both to have an organization skill and to look good, and yes, even being beautiful and cool is included. The length of the yacht is your career goal. Always bigger yachts, bigger, and then bigger… So you begin with 30 meters and go on to 40, 60, 70 meters… And boats cruising on all the seas, all over the world. The career goal is to be a head chef on a boat that cruises on Mediterranean during summers, Caribbean during winters and trans oceans according to season.
Will you continue working at Armani Nobu in winter?
That, in part depends on me in part on them but we have nice and strong relations. If I don't decide to spend the next season in New York I'll continue. Nobu Matsuhisa is a chef modernizing and introducing Japanese cuisine to the world and I'm very lucky to have worked there. We have prepared the most famous dish of Nobu, black cod with miso sauce and we cooked 50 lobsters every day. It was a nice period and I've learnt a lot. Chef Antonio D'angelo's approach which is professional rather than traditional, has a great part in that.
You're getting ready to sail soon.
We'll be sailing on Mediterranean from San Remo when the magazine is published. We'll be departing from Imperia which is close to San Remo and sail to Greek Islands via Capri, Sicily. The best part is I'll be sailing too.
What are your goals, dreams from now on?  
I don't really know how I will go on but working at super yachts as a chef during summer and at Michelin starred restaurants in whichever country I'd like for a couple of months seems like the best way. I don't consider parting from Italy though. I will never be a part of a typical chef story. What I believe in is, for cooking to be a passion good food and good wine has to be a part of your life. So, kitchen aside, you can always find me in a chic city, at a chic location, sipping champagne with my high hills. I think I'll eventually end up in Milan for spending some time. I like Italians.