A Cinderella story in reverse
"I don't believe in the cliché that "Cooking is a passion." Making love is a passion! Eating is a pleasure but to cook you have to know the techniques really well."
Deniz Kurt is the first Turkish chef to work at Milan Armani Nobu Restaurant and she is also a superyacht chef… Deniz Kurt wanted to be a primadonna of opera but ended up working in the kitchen of the Italy's most famous opera "La Scala", hers is a success story written by pots and pans; .
On a sunny April morning, I meet a girl from Milan. Some of you will remember her from TV shows. She is not trying to be phenomenal. She is not one of those women who say "I can have a child and a career in the same time."
Her story is original; I think you'll like her. First some notes:
–          She is the first Turkish chef to work in Milan Armani Nobu Restaurant, one of the famous places for Japanese cuisine in Italy. Because she is also a superyacht chef, she will spend the summer in Mediterranean.
–          She was thirty when she stepped into the kitchen leaving the music, organization-acting business behind. Her life changed when she started and graduated Culinary Arts Academy of Istanbul (MSA). She found herself mopping the restaurant in the basement of La Scala Opera, where she dreamt to be on stage when she was little…
–          While you are reading this interview, she will be on the stern on a superyacht sailboat, sipping her champagne while watching the stars. If you're ready, let's start this Cinderella story in reverse. This is my introduction of Chef Deniz Kurt.
– Your Twitter name was "lupadimare"; what does it mean?
Lupa di Mare means "sea wolf" in Italian. It's me, Deniz Kurt (Deniz means the sea and Kurt means wolf in Turkish). One day an American friend asked me: "I heard every Turkish name has a meaning, does your name have any?" And when I told the meaning of my name he was surprised saying "It's like an Indian name!"
– The energy of names thing?
Yes, I do think I live the fate of my name. I was already a diver, had a captain's license. My dad never had a car, he was a sea man. We go fishing since childhood…I now believe these entire carved put my fate.
– So what's with you and La Scala? Tell it from the beginning…
I was born in 1978. I was one of those kids who were subjected to IQ tests. I started speaking at age 1, was able to read at age 2. I was reading newspapers at 3. They made me start elementary school at 5 and as a kid who learnt how to read but couldn't yet write because of small sized hands. On the first day of school as usual I was crying  but th reason was in my own words : "Why are they crying? Weren't we supposed to learn things?" while everyone was crying because they didn't want to part with their moms. My memory is bizarre; I can remember very bizarre things but can't remember the basic ones. I don't remember most of these, either, I must have erased them. I tried to enter music school after a standard high school education. I wanted singing. I didn't want to get education on any other university department. But it didn't seem possible. They were taking only 6 people out of six hundred. Even the students who were taking private courses for 100 dollars per hour from academicians in singing department were not guaranteed to enter the school. I didn't have 100 dollars, anyway.
– And then?  
Then I started singing as a soprano chorist in Istanbul Chamber Choir. We gave concerts in Atataurk Culture Center, classical music festivals, Hagia Irene under the tutelage of Yeşua Aroyo. I sang in English, Old English, French, Old French, German, Russian, Latin, Hebrew, Spanish… and then for ten years I worked in concert organizations. Rolling Stones, Brian Adams, Ricky Martin, Madonna, Metallica, Tina Turner, Pavarotti, Bocelli…Many more…and then management of a record company. Albums, concerts, tours and I crisscrossed Turkey and Europe. I lived those years in the most colorful way possible by working day and night. And in those years we had so many concert tours that I had the chance to eat the traditional food of the towns I had been in or the chance to go to thbest restaurants during Europe tours. And that was how I became enthusiastic about food, by eating. And my style never belonged in with a singer's world.
– Because you actually belonged in the kitchen?
Not exactly. Mine is not one of the familiar chef stories. I was not the woman whose mother cooked delicious things, who started making cupcakes when she was a little girl or someone who never walks out of kitchen. Still I am not. I put on my high heels and ride my bicycle through Montenapoleone to the restaurant. When the work is over I go to drink champagne. Just the contrary, I never cooked until I was 25. But during tours, I tasted everything from every region! Those tastes created a new world within me. To sum up, I don't believe in the cliché that "Cooking is a passion." Making love is a passion! Eating is another pleasure but to cook, you have to know the techniques really well. The techniques of knowing the ingredients intimately and cooking them! You have to love what you are doing, that's another issue.
WHOSE COATS DID SHE HOLD?
– How did you decide to change your life?
I earned big titles when I was very young. I was the general director of an entertainment company when I was 24. When I was 26, things changed. The world changed! Because the internet created another reality and record companies became irrelevant. I wasn't the type of person to start her own business and become a businesswoman. I guess I didn't want it then. At that time I was among the people saying "Let's move to the south, start up a restaurant". I went to Barış Tansever, the owner of Sunset Restaurant. He said "These things aren't as easy as they seem, come here and learn". I became the PR manager but at first I objected, I was displeased. I said this job is not for me. Barış convinced me and this experience prepared me.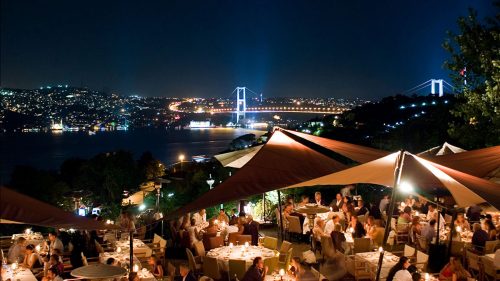 – Women usually like to get invited to restaurants, not to work there…
I was already a loyal customer there. And when I started working I got rid of my complexes that every woman from Istanbul unnecessarily has, such as "I can't do this, I won't do that" and laughed them off there…I held the coats of my ex-boyfriends' new girlfriends for them. I ran to the finger clicking of guys who wouldn't even dare to speak to me if I was a customer at the bar.
-Wow that must have been hard for you! And then?
I learned from there what restaurant-business is like. Customer satisfaction, wine trainings…a few years later I went back to my old profession and continued acting in TV series but I couldn't be happy. No good roles were offered, and I was out of luck. At the end, I shut myself home. That period led me to a decision. I didn't want to work at a company, I didn't want to be an actress in silly Turkish TV shows, nothing I wanted had come true and that wasn't the life I dreamt of. It was not around here and all I liked was cooking. It was like a rehab. Put me in the kitchen and I'm lost. At first they say "Don't you get tired of cutting vegetables for hours?" I don't. It's like if I don't get bored writing for hours and I don't get bored waiting in the backstage after acting the same scene over and over again, I don't get bored with it, too.
– How did you decide to go to Italy?
After the Institution, I entered Alma La Scuola Di Cucina Italiana through MSA. Its founder is one of the most well-known chefs of Italy, Gualtiero Marchesi. He is now 83. He is also the chef that modernized and introduced Itaian cuisine to the world. I went to his school and through a nice coincidence I became the student who got a job in his restaurant.
– How did the mopping the floor scene in La Scala come about, by the way?
Il Marchesino is the restaurant in La Scala opera building. When I was 16, I dreamt of being in an opera but I found myself mopping the floor in the kitchen in the basement of La Scala, listening to the aria coming from above! A Cinderella story… Or you can call it a success story. For me these two things are the same. Life happens and it all turns out as you wanted it to be. Only the ways keep changing. Just a year before that I was browsing the internet to see what was on La Scala, it was really priceless a year later to look at the A4 paper on the wall of the kitchen and go "My God, there is an aida 3.5 hours long! It will not be over until 1.30 am." Kitchen is a place like that in the end, you cook then you mop…
– Do you regret it?
No. I'm glad I dropped out of conservatory, I'm glad for everything that did not happen and I'm so glad I didn't get married. I worked for free too. I slept on a mountaintop with Japanese workers to get experience in a 200 year old restaurant. But now I'm an Italian private sailing yacht chef. In a few days we'll be off to Mediterranean.
– Let's talk about the sea then… How is the situation for women in yacht-chef world?
You know there is some news like "Women chefs are not preferred", the situation is different in superyacht sector. Mostly women chefs are preferred. Especially in sailing boats.
– Do women chefs look better on boats or something?
Gorgeous women at 40 manage the kitchen of boats 60-70 meters long. I'm a sail yacht chef.
– Ooh, so cool. Does this job pay well?
If you have all the qualifications, you get paid 3000-4000 euro at least. A big M/Y headchef can even earn up to 10000 a month. They want Michelin experience, they want restaurant experience. To be part of this sector, you have to know the world cuisine, techniques and you have to be knowledgable about many different types of cuisines. I learn new things every day. Expectations and quality are high.
YACHT LIFE
– What do the people on superyachts eat and drink?
My boss is Italian. He is also a loyal customer of Armani Nobu, where I work. Besides Italian cuisine, Thai, sushi, sashimi, all seafood, shellfish, octopus…
– The potential of the boss's capriciousness is probably great, too. Isn't it stressful?
Kitchen is stressful in every way. It all comes down to good organization. You have to have fresh ingredients you can buy from coasts and menus depending on this variety of products, you have to be prepared in terms of shopping. Coordination is vital. There is no such thing as "I'll figure it out somehow".
– What happens when summer ends and the superyacht stops?
Well, I will keep getting new experiences and references. I can go back to Milan for the coming winter but I don't prefer. Maybe New York or somewhere else like The Caribbean or Pasific by boat again…Who knows…
– Great. Are you sure you won't find yourself crying over why you don't have a husband and a child at 45 at a stern of a boat?
Ha ha ha… I've stopped repeating what we are taught. I realize that I live according to what I want most.
RUNNING LATE? "I didn't cook until I was 25. But I did eat well. One day I said to myself if I have a daughter, I'd rather she became a Chef or a pastry Chef instead of beating herself up in the tough, male dominated business world…When I reached 30 and found that I have no daughter, I went and became a chef myself."
PRETTY CHEF: "Actually they don't like pretty women in the kitchen. Because they think we won't work. It's a tough trade, you carry pots and you struggle with scoops. It's like you are in Gulliver's Travels, everything is huge. There is no room for fragility. But at the end of the day you can put on your high heels and go drink champagne! By the way I shouldn't be saying these because in job advertisements it specifically says "We're not looking for a 'primadonna chef', they think we are whimsical and a typical woman who looks down on heavy work! I used to avoid telling I used to be an actress because it was difficult to get past that prejudice. But now I tell it."
CHEF'S LOG BOOK: "My grandfather was the owner of a restaurant in 50's in Eminönü. I still go buy the spices he used and take them to Italy."