A woman to take serious: Deniz Kurt
Motorboat & YACHTING
This month's guest is a private chef who is also a writer, artist, promoter and a singer… A woman with a soul apart. Deniz Kurt… A woman hard to encounter with. A woman who can open all doors with her smile… A woman existing in an alluring triangle that she has established between Istanbul, Milano and the oceans… and her superb nautical skills to crown it all…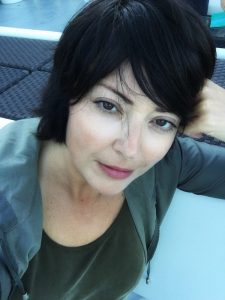 How did your passion begin for boats and sea? Is this a childhood dream or a passion developed later in life?
As a matter of fact, sea is not my "passion". It is my profession, and for me, my profession cannot be my passion. True, you have to like your job and I like it. Passion is something else. Passion is being in love, passion is writing, passion is art. It cannot be a profession. I find it nonsense to say cooking is my passion. To be a chef, you need the technical knowledge and know-how. And cooking at sea is associated with how you want to apply this technique; it is related to which scenery you wish to see when you lift your head from the cutting board. I have chosen to do this job at the sea. I love to travel, the meaning of my name is "the Sea" and my choice is definitely influenced by my childhood memories of sailing off to fishing on my dad's boat. I like being on sea, however I may not say I can't live without it. This, in the end, is my job.
You used to be a soprano, then a concert organizer, later an actress and even a vocalist. What made you decide to be a superyacht chef? You define your decision to attend the culinary school as "the final wish and accomplishment in my pocket". What does it mean?
What used to make me happy in the beginning started to eventually make me distressed. For many years I was at important positions in entertainment and media world. I worked behind the screen for hundreds of projects – famous singers' albums, concerts, TV shows, TV series, and was even in front of the screen as an actress but couldn't find the colors that I feel I belong to in this circle reputed to be a colorful world. At some point I was tempted to get to know new people, do a different job and to know the world. It's that simple. What I mean by "my final wish" is that I both love the sea and to cook as a job, so I combined the two and became a yacht chef. This doesn't mean I only cook at sea though. This is an international sector and I work as a Private Chef for high profile clients in their yachts or villas all over the world in America, Asia, Europe and Australia. This is in fact simply a yearning to exist in a new world. I longed and endeavored for it, got lucky and it came true.
What distressed you about concert organizations?
I was only 19 when I started, and it was a life full of colors. Think about it, you have access to the backstage of Rolling Stones with your All Access Pass Card, stand on the stage where Madonna, Michael Jackson, rock stars of the time like Metallica, Guns N Roses or classical music giants like Pavarotti or Bocelli performed, you deeply inhale the spirit of that period, and technically you are the person in charge. This was a privilege. Later I continued with the same job by organizing tours for Turkish top singers. But this was the story of that period. When internet came up and invaded the music sector, record companies fell one by one and the whole system changed. I took place in front of the camera and wanted to fulfill another talent that in my pocket, which was acting. I got stuck at some point because in Turkey you're taken seriously as an actress only after you spend lots of years in the sector. This means that unless you're lucky in the roles you've been offered, you're not taken seriously in real life. And I'm not a woman to be held in low regard. When I've uncloaked the characteristics taken seriously, I've found my place. Now everybody takes me seriously however this is not the genuine victory in life.
How did you learn about sea life and yachting? Did you get any training?
It was all a coincidence. When I was 16, I took diving lessons. I wasn't a much of a good swimmer. It's rather funny but I still can't swim well. One day I fled to Bodrum from Istanbul to take diving lessons and a certificate for that, unbeknownst to my father. When he found out he said; "but you can't swim well!?". I replied him: "diving requires remaining in water dad, not on it". Then when I was 25, I received my captain's license. To be a yacht chef, you need to be a part of the sailing team. We keep watches; therefore, we must have some basic sailing skills and be able to execute them in certain circumstances. Captains also prefer chefs, who are acquainted with sea and sailing. You can hardly exist in this sector without a certificate and the necessary information regarding sea. Aside from certificates like STCW95, Sea Men's book, ENG1, Hygiene and Security Awareness; yacht chefs are required to obtain professional certificates such as Ships Cook Certificate to distinguish from amateur chefs or land based chefs. You cannot be hired without passing these exams and obtaining the certificates.
You've studied in Milan. How is/was your life in Italy?
I like the Italians. It is actually a general fault to state I've studied in Milan, because I studied in Parma, Alma La Scuola Di Cucina Italiana. It's a very good school on Italian cuisine. I worked in Milan though. I used to be at the restaurant at the crack of dawn and work until the dead of the night. During breaks, I used to hop on my bicycle to go to a park in nice weathers and lie on the grass to ease my back ache. Unfortunately, a chef's life is like this anywhere in Europe. As I finished working in the restaurant sector and during the periods I don't have work, my life in Italy can be simply called Dolce Vita! Like any Italian, I sip my champagne at aperitivo, 7 in the evening.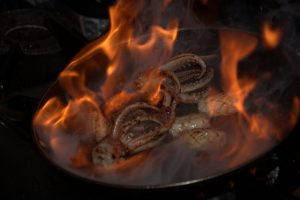 You spend your life in İstanbul, Milan and the seas. What are the cons and pros?
As a matter of fact, people around me or the ones I meet for the first time envy me. And I have no clue what they envy exactly. You spend this kind of life alone, free with no strings attached, that's true, but on the other hand you long for someone to tell you to stay. The persons in your life can hardly understand you if they are not travelling regularly like you. It just doesn't work if you announce you're going to the Caribbean for 3 months. The world is small for people like me. I may be here today but might as well fly to the Caribbean or the Pacific tomorrow. But to the people living in the same city, you're the one to wave farewell in tears with a handkerchief in hand, just like in a movie. However, nothing is that dramatic. On the contrary, it counts even only if you can hold someone still in your life in this fast motion track. It only takes one flight ticket to see each other. All in all, I am not able to talk to someone having a static life for more than 10 minutes.
Yachting season is the summer in Mediterranean and the winter in Caribbean. How does this affect the rhythm of your life?
I get tired when I work on the boat for a long time but then get nervous when I stay away from the sea. Every winter I tell myself to stay home this time but then find out everyone has gone to the Caribbean and can't keep still. I hop on a plane and surely find some work after arrival, so I find myself on seas again. And on the way back we cross the ocean so we don't need to pay for a flight ticket. Well, aside being funny, this is how it is done by everyone in this sector. For a lot of sailors, crossing the ocean means something, but for the superyacht crew it's only a basic part of their work, that's all. I never cross the ocean with a small sail boat shorter than 30 meters. Because I know how badly the boat can toss. Crossing the ocean with a 10 to 15-meter sailboat is for bohemians. Well, I'm not that type of woman. I won't do that; my comfort is very dear to me. And I'm not a venturer. I'm an experienced and well known superyacht chef. You may call me a little bit spoiled. But that's the fact.
Are you the only Turkish woman yacht chef in superyacht sector?
As far as I know there are only a few Turkish woman chefs in international yacht sector.
How do you deal with the ill-mannered, arrogant and spoiled yacht owners and their snobbish rich kids on board?
Let me speak candidly. I've never come up with such a complaint. People of a certain class with prominent wealth are in fact much more gentle, high class and decent. They don't behave capriciously or spoiled. They only choose where and how they like to spend their high amount of money. It's all about that and is quite normal in my point of view.
Doesn't it stress you out to make long journeys with different people in a luxurious life?
Firstly, the bosses and clients do not join the long journeys on the sea. Other than that, I naturally receive challenging or special requests, because I'm a private chef. If I'd chosen not to be interfered with, I'd have opened a restaurant and served my customers there. But I'm a private chef. They may as well request an omelet for dinner or a Michelin quality fancy looking plate. This is my job and I'm not bothered slightest. That's why they pay me tons of money. I just regard it as a natural request in my line of work. This is not snobbishness. This is the standard.
You're a master of the Italian cuisine. Why did you choose Italian cuisine?
Because it's improvised. Everything Italian is natural, and the ingredients they use are as natural as their demeanor. They always use these natural ingredients. This is the essence of Italian cuisine. And it gives me great pleasure. That's why I'm in deeply love with the Italian cuisine.
How did you start to work in the world renown il Marcesino alla Scala?
There were 300 students in the school and they appointed me. They appoint only one person each term and they selected me. It is probably luck.
What's the difference between a private chef and a yacht chef?
The first priority in my job definition is to satisfy my boss with the food I cook, whether in their homes or on yacht. But being a yacht chef means that at any given time you are affected by various parameters. We are also responsible of meals for boat crew ranging from 10 to 20 or more according to boat size. Crew meals are a big motivating factor on the boat. The crew can hardly wait for the meal time, so it's crucial to serve very good food. It also needs skill to cook in bad weather conditions. That's not easy. And of course supplies are of utmost importance. I think it's the most critical aspect of the job. Everybody can cook, but take a very experienced professional chef and put him in a boat, and he'll need a lot of time to figure out which ingredient to find in which county's coast and what to cook with them. You're supposed to bake the exact same Italian bread with the flour supplied from Spain or Thailand. You have to know what to cook with the type of fish that belongs to foreign waters and you've seen for the first time in your life. These are spontaneous things and you have to be ready for them. In a couple of years, the world dwarfs in your hands and you possess the experience to work as a chef from Europe to Atlantic, from Indian Ocean to Pacific.
It must be hard to supply food for a kitchen in a giant mega yacht. Different ports, different markets and different cultures. What's your method to procure the best supply?
They don't train you for this at any culinary school. It's important to remain for some time in the ports you travel to and live. It's also important to get to know the shop keepers and establish good relations with them; to have good command of ingredients varying according to countries, to read and explore and achieve the optimum by trial and error. You'll try and see. There are also some worldwide provisioning companies we work with. You can't just go and find 300 kg different types of meat, chicken and fish in any market. You prepare your list and these huge suppliers ready all the ingredients for you and deliver them just the way you've ordered. For example, the order is delivered to the Caribbean from Europe by airlines and we receive them at the port. This is the way the system works in big yachts and long journeys. If, for instance, the yacht owner is Arab, but his crew is not, then I have to supply halal meat for him and pork for the crew. You need to prepare different menus for an American boat owner and an Italian one, and therefore adopt different types of supply.
What are the challenges of cooking in a galley – the boat's kitchen – in harsh weather conditions?
The boat rocks in any case even if it is 80 meters long. If we receive a bad weather report, we do some pre-cooking. We fix the pots and pans in their place. We also fix ourselves. I prefer to use oven in harsh weather conditions rather than stove. Because the food on stove can spill out. I recall having cooked at wind speeds up to 50 knots. But I can't imagine any further. I haven't had that bad weather. I guess search and rescue will be required after that.
Is there any recipes that gives you hard time?
I don't think so, but I don't like making desserts. Handling dough and cream is not for me. I do it anyhow but think it's just unappealing.
Presenting the food is as important as its taste. The presentation is supposed to constitute the character of the food served. What is creativity and character in a presentation?
Before anything else, you receive a very classical training on this. Besides we watch the trends over the world. The food in the pan doesn't look tempting of course. If you fail to present it, your work doesn't look professional at all. The presentation of the food is somewhat related to the trends and your own creativity.
What happens if the food that you spent so much time on cooking does not get any credit from the owner?
Up to now, this has never happened to me. But there were times when a spicy meal was returned by guests who did not like hot spices. This is quite normal. The feedback I get for my food lets me follow up the eating habits of people I cook for and put it all back on track in a short time. The boat owner keeps tabs on the meals I cook, I understand and learn what they like and follow that taste. That's what a good yacht and personal chef is supposed to do.
You've crossed the ocean twice. How did these different journeys contribute to you?
With the first one, I felt relaxation in my soul. The second one was solely work. On gigantic blue waters that seems endless, you realize how foolish some worldly worries that trouble the ordinary person ashore are. You're in touch with nature and its unconquerable strength, it feels like you're on sea with larger waves only but it's an ocean. Underneath you there is a depth of thousands meters, an enormous mass of water. Whether you are being there or not, nature is and will always be there. On an ocean, one understands the fact that life is standard, traditional and temporary. You realize that the life in dusty cities is quite transient, and the distressed or joyful life you create in your mind is so unimportant.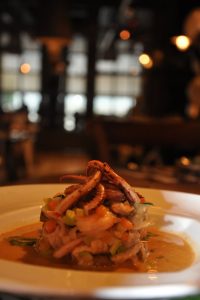 Has this changed your point of view?
No. We can in fact change and become different in any stage in life. This is not only related to being on an ocean. An ocean crossing cannot change you by itself. If your perception level is high enough, you can still absorb the same by only looking at the sea on the beach, whether you cross the ocean or not. And I don't require a major change in life. I'm quite satisfied with myself.
You have a website "denizkurt.it". What is it about?
It is a website describing my job and myself. It's more professional than writing a CV. Whoever wants to work with me and need information about me can enter my website and easily access the detailed information. That's exactly the purpose. Yes, you can also find my ongoing magazine articles and photographs but the main theme is my work.
As a writer and illustrator, how do the sea and the time on yachts affect your writing?
I've been writing since I was 8 years old but my style has been evolving by itself. It's true that the maritime life brings up different subjects into my intellectual world. For the magazines, I complete and deliver the articles just before their publishing. In that sense I'm a little lazy because I don't make a long and meticulous plan before I write. It just develops and instantly an article comes into existence. Call it a talent or contentment of writing for a long time. But I can't say I do not suffer from writer's block. It is just that I never had to try extra hard for writing style or subject. It comes naturally. I just sit down and start writing. What comes out is the result. My style varies from serious articles on maritime life to thought provoking subjects. I like my fellow provoking people.
You also write on Mirgün Cabas' website "CEYMS". How did this come along?
It happened by itself. CEYMS is a website that brings the cool world to its readers through entirely "cool" articles. My article topics are open-ended. I write about seas, food, countries, interesting things I've come across with or lives spent behind closed doors. In brief, I write on what you might be curious about. Mirgün and I are on the same wave and he's usually satisfied with what I write; there are times he finds the article absurd and I change it. I enjoy writing for CEYMS.
You're working on writing a novel. It's called LEYLA. What does it tell? And why isn't it yet complete?
It's a story that takes place in 1990s. It's still not complete because I have not been able to collect and line up my thoughts yet to finish the book. It involves love. Anyways, a world without love should not exist. Leyla falls for a man but the man has a totally different life outside of Leyla's. Another reason that it's not complete is the story takes place in Istanbul and I should be in Istanbul to write it. I actually write another novel called Valentina. It's a story on an Italian woman. There's obviously a man she's in love with. Valentina is more interested in the sea than Leyla. There is a period of life that she's spent in the sea. She'll later have a baby and we'll listen to the second story from her daughter. After Valentina's death, her daughter, Isabella, will find her mother's lost diaries in the hidden corners of the lighthouses in the Mediterranean. It's an even more exciting story. And for that I have to be in Italy to write ☺ So there will be two books. VALENTINA and ISABELLA.
All three books are actually finished in my mind. Leyla, Valentina and Isabella. The endings are set. It's only about the writing what happens till those endings. I need to stay at home to write, but nowadays I just can't remain at home. Life cannot be scheduled. I'm recently on seas but I will definitely find the time someday and write.
You have a collection of photographs of your name written on sand everywhere around the world, in each different city, country or island. What's the reason?
I confess that it's not about my name. This originated from a joke I intended to make to the man in my life. He's an Italian. Even though he has a humorous temperament, he's quite a serious business man. And I'm the woman mocking that romance cliché. I wrote his name on the sand one day and messaged him for fun to surprise him between all his serious work and asked "Is this romantic enough?". He answered "A lot!!!." We laughed about it. It went on like this. There is a photo collection of his name and another collection of mine. The intention is actually to say "you were on my mind on that coast". So even though you're oceans apart, this is an evidence of having someone in your mind. If I have not written his name on some of the beaches, that is because we were definitely on the outs, and that might be the case from time to time.
Leyla is a beautiful woman. Why did you match her up with an ugly character like Quasimodo?
I write with pen and pencil instead of a computer. And you never know where the story is headed. Everything happens in an instant and you can never guess where the thoughts and feelings in your mind will arrive. It went there at that time… It's Leyla's mood. Yes, the character you've created carries some pieces of you but it's Leyla's mood, not mine.
Do you plan to travel the world at some point?
No. I tour around the world in most of my time anyway. I don't have urge to do this with my own boat. I have been on oceans long enough. And even though this life is envied, to me it is 70% work. When they tell me how a gorgeous life I live, all I'm interested in is how many cases of orange I should purchase. I'm not a bohemian traveler around the world. Just like a broker or an engineer, this is my job. But of course I could never live in a place without any sea. I would always choose to live in a place near a coast and even close to an ocean.
Do you write in your diary everything as it is?
Since there is nothing to hide from myself, yes, I've written almost everything. Although it is not one of my goals but if I have a child, I would have liked to leave him/her my diaries. Of course I keep them away like a treasure, despite my mother's attempts to seize them from time to time, which she succeeded when I was younger.