MEGAYACHT GALLIES
"He who has seen Paris and not Cassis has seen nothing." (Frédéric Mistral)
I returned to Europe. Yet again I have crossed the ocean to come here, but as these crossings became frequent like going from London to Manchester, the lovely ocean crossing that should mean something transforms into another job related chore that I do not like to talk about.  For the ones painting and adorning their dreams blue, in order not let loose the meaning of crossing over the vast Atlantic…
Of course we saw one whale and dozens of dolphins again. During my turn for observation, I saw one Godzilla and even the Prince Charming in the dark of the night! Joking apart (the whales and dolphins were true though), after spending two weeks on the ocean again, the two days in Gibraltar due to the bad weather in the Mediterranean plus two days stopping at Majorca; we arrived France in a total of three weeks.
Where in France this time? It is Toulon. Because this 55-meter motoryacht that I joined solely for ocean crossing spends its last two weeks in not so popular 'shipyard cities' for having their technical maintenance swiftly before hopping from Monaco to St. Tropez in Cote d'Azur many times during the long summer. And I, taking advantage of the opportunity, scouted around.
Toulon is a French city that can be considered big. Its importance lies in the fact that it is the central port of the French Navy. Although the huge warships are exactly anchored opposite to us, I did not see any handsome sailors like the marines in Pearl Harbour movie, bad luck! Now I am exactly at a cute coastal town thirty minutes away from Toulon and one bay away from La Ciotat, another shipyard city. Cassis…
What did the Nobel Prize winning poet and author Frédéric Mistral say? "Qu'a vist Paris, se noun a vist Cassis, a ren vist" meaning: He who has seen Paris and not Cassis has seen nothing.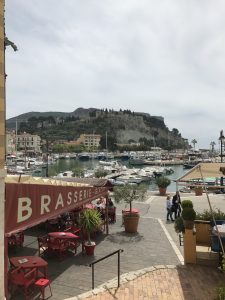 I think two cities are not even remotely related, but it is a poet at work; the words must have come out of him while sitting at the coast and staring romantically at the sea sipping his wine… And the words fit, as it is a really pleasant town. For one thing, I can tell you that the French towns in Cote d'Azur including Monaco and wrinkled from popularity have long become trite.  As you can hardly encounter even one pleasantness in the region extending from St. Tropez to Monaco; everything has become a theme for an Instagram selfie and turned into a fake luxurious life!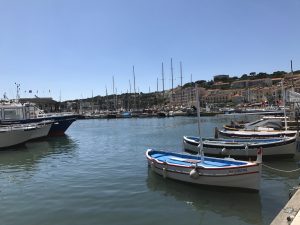 I think lives cool as Brigitte Bardot's and fabulous as Grace Kelly's ended in the 80s. Nowadays, the Principality of Monaco makes money merely by selling their stories. The remainder is lies and garbage. However, an exquisite and elite life continues behind the closed doors. In magnificent villas located at serene and untouched southern French bays coming after Monaco and extending from Eze to St. Tropez and here, namely places like Cassis.
Cassis, a small town with a small harbor. Nice restaurants at the harbor and exquisite stores and bistros at the historic back streets we can call "old town" are more than enough to let you enjoy a pleasant day. And I should mention the natural park worth discovering: Calanques. This magnificent lagoon that cannot be accessed from land is your bonus! In other words, you should come here on boat. If I say "now, let me sit in a restaurant and indulge myself with a course unique to the region", the first one that comes to mind is the famous Southern French dish, the Bouillabaisse…