Dockyards are Holland's business
If I have to explain the reason why I wake up each morning freezing and go to the dockyard instead of being on the deck of a superyacht cruising in the Mediterranean, what can I say? This is part of our job as well.
I am talking about Holland. Although the town I am living in right now is located at the southern regions of the country, that country is unluckily in too northern part of the world. While you are crowding the streets in t-shirts, I still wake up to a rainy weather dancing between 8 to 12 degrees.
Holland is one of the leading countries in building superyachts. And these magnificent babies that we work in needs to go to a coiffeur and undergo maintenance in the docks. Their technical malfunctions are repaired and their interiors are renewed. And these girls are made more super becoming top models. You know more or less why I speak of yachts as girls. Because they are females. They are referred to as 'she' in English. And you can call ours as breathtaking supermodels of yachting world. And as superyacht's crews, we may sometimes join in to a boat undergoing construction or maintenance still in a dock. Then our dock life begins.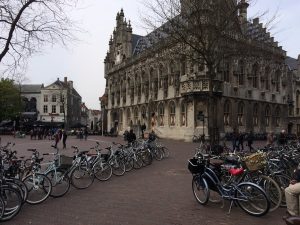 I was not making a figure of speech when I said "Holland is one of the leading countries in building superyachts". Holland, which is directly connected to the Northern Atlantic, is the home of huge yacht builders with dockyards such as Amels, Icon, Barkmeijer, Damen, Feadship and Oceanco. I am in Vlissingen now, a city ruled by Amels and Damen.
Vlissingen is a southern Dutch city. I can say it is only famous for its dockyard. While I was working as a Chef in a 68-meter long yacht named ICON, carrying the same name of its dockyard Icon, I lived at Icon dockyard located in Harlingen, Northern Holland, but Vlissingen is the starting point of the yacht sector in Holland having its roots back at the 14th century.
Amels and Damen companies tell that as they were pioneers of those times and provide ships for the Royal Dutch Navy, and as they become number one in manufacturing submarines, in their own words, this work has gotten into their bloods for 700 years with the deep rooted tradition descending from father to son. This professional quest in this small ocean town of Holland beginning with building war ships enabled yacht building sector spread to Northern Dutch towns in the following years.
One of the things I find interesting after coming there is that the ocean is green! The green color you know of! Not blue. Therefore, if you look at the ocean from this side, it is not very welcoming. I looked to Atlantic from the Caribbean coasts, I also looked at it from the lengthy shores of Florida, I looked at it from Rio in South America, even I looked at it at length on boats cruising through the Atlantic. Therefore, I can say that I have a never ending relationship with the Atlantic Ocean. But the Northern Atlantic is cold and colorless!
Including Vlissingen, there are many towns in Southern Holland opening to the ocean. Oostkapelle, Westkapelle and Domburg are some of these. While we, the sailors carrying Mediterranean blood got chilled to the marrow by this cold, and even mentioning of swimming make every bit of our flesh creep, what can we say to Hollanders coming to these regions for vacation?
In June the beaches will be opened, temperature reaching to a maximum of 25 degrees, so they say, and it will get crowded and the restaurants and bars around the beaches will get full, so they add. Ok it will get full, so what… Will 25 degrees and dull northern Atlantic shores satisfy a girl like me having a Mediterranean soul and coming from crystal clear waters? No it won't!
Then, until going south, let's taste the delicious sea food of here. I do not know what will happen next week. We will experience it together!