Il Ristorante Trussardi Alla Scala
I will go straight to the point. Ristorante Trussardi Alla Scala. At the heart of Milano, just next to one of the most famous opera buildings La Scala, a unique corner facing "Piazza della Scala" meaning Stairs Square in English.
The restaurant's importance in my life is that it is the place witnessing my first arrival and many departures, not one of them being final, and it is the starting place of my stories that I carry with my mind around the globe. If you visit Milano and come to Trussardi, it is the only location where you can find me drinking a glass of champagne at its bar if I am not at some place at the other side of the world (I cannot promise I will be alone though).
Then, why is this restaurant so attractive?
1) Chef Luigi Taglienti who lets his Michelin star shine on every plate… The young but experienced Chef who manages the kitchen of this very famous restaurant says that his menu is a documentary series in which every ingredient plays a key role. And while distributing the roles, he merges traditional methods coming from his genes with contemporary techniques. A better metaphor for the plates coming out of his hands with this professionalism would not be a documentary series but an artistic movie.
2) The restaurant is on the upper floor, but there is a Trussardi Cafe at the ground floor as well. Don't let its name fool you; it is a stylish bar where you can see the celebrities and important faces of Milano. Under the management of yet again another young and handsome Chef Stefano Portogallo, another menu with delicious and stylish food… Each afternoon beginning from 13:00, people swarm it for lunch then it becomes even fuller around 19:00. It is especially the starting point of La Scala premier nights. I can surely say that it is the sole location where you can find the best wine and champagnes and spend quality time at the best in Milano. This is provided to you by Luca Cinacchi, the man behind everything in Trussardi, and Tommaso Cecca behind the bar plus Caffe Trussardi team. Chef's promise!
3) Of course, Trussardi brand was born in 1911. The brand, created in 1910 by Dante Trussardi who was the grandfather of Nicola Trussardi one of Italy's current legendary figures, is enlarged by Nicola Trussardi in years became the legend it is now. The brand, of which Ümit Benan who is counted among Europe's most successful and sensational designers was the creative director at one period, also embodies a foundation under the name of Nicola Trussardi Foundation. It is number one supporter of Contemporary Art in Milano about which we currently hear a lot in İstanbul. Furthermore, it is a foundation striving to support contemporary art and contribute to the development of young artists with the revenue it generates. After all these, if you insist on being a tourist who shares photos in Instagram while eating pizza and tiramisu skipping Trussardi, let's not see each other anymore! (Is it too cruel? Yes, I can be cruel sometimes)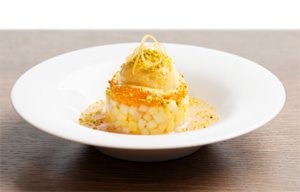 I am writing this at Trussardi's bar on one of the busiest days. While I was working as a chef in the restaurant under La Scala opera, we always had the same dialogue: "c'e la scala oggi?" "si ce!" meaning Is there Scala? And meaning is there a show at Scala? Underlying meaning are we going to be crowded or will we work less; I asked this key question to Tommaso when I saw the multitudes. His answer was: Si c'e la scala!… Meaning, while I am writing this, I am taking sips from my champagne at one of the most enjoyable moments in Trussardi Bar. But while you are reading this article, I might be at in solitary part of the world at the middle of an ocean.
Soon, I will be going to the Caribbean's passing Atlantic or the Indian Ocean passing Pacific. I am beginning my job as a Chef in my new boat. While you are reading the sea adventures beyond oceans if you are in Milano, absolutely say hi to Tomasso from me.
Arrivederci.