Cooking is a professional business! But what is essential is living, and living is passion! And the place and life you live can only be chosen by you. I chose the seas.
In past, if someone told me that I would pass the Corinth Channel at least twice in a year, I would just laugh at him, because I had not become a yacht chef.
I do not follow a path adorned with clichés like 'cooking is a passion for me' or 'I am chasing after my dreams'. I chose my life and the place of my existence with a passion for life. In short, if you are not happy with your life, change it. I cannot say that it will be easy but it is not impossible at all. Therefore I am constantly passing through the Corinth Channel! Maybe I will write from Panama Channel in next winter.
Well then where is Corinth? It is a small manmade channel connecting Adriatic to Aegean Sea. If you followed me in previous issues you know that we started the season in Italy's Imperia Port.
Before reaching Corinth, you are welcomed by Rio- Antirrio Bridge in Greek Seas. As it is obvious from its name it connects the Greek cities of Rio and Antirrio. The formal name is Charialos Trikoupis Bridge given after the Greek Prime Minister who first proposed the idea of this bridge. The 400 kilometers road from land is cut to 2 kilometers with this bridge. Its construction was finished one week before the opening ceremony of 2004 Summer Olympics. We reached the bridge at 07:00 Greek time (same as Turkey) but the yacht's biological clock was 06:00 as we came from Italy. While trying to take pictures of the bridge wearing my sailor's coat because of the morning chill, I was also gathering this information from the Internet. And anyhow we passed it quickly.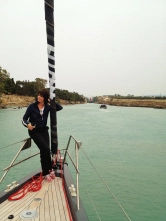 Now comes Corinth. Of course Corinth's history is older. The 6 kilometers long channel finished in 1893 enables you to enter the Aegean Sea without passing 400 kilometers of wavy and challenging sea route and travelling around the Mora Peninsula. The impressive part is crossing that quite narrow pass. Because its width is just 24 meters while its depth is 8 meters. Therefore not only ships, it is very hard to pass with big yachts. Last summer I passed the channel for the first time with a 43 meters long Ferretti motor yacht. As it was a enough big motor yacht, and because of its width, we passed it very slowly. We were so close to the sides that we could touch the Channel's walls. Now we passed it with a Wally sailboat as you know.
We followed our tender that however looked like a second yacht as it was a Wally Power 47. The narrowness of the channel and the height of its walls leave you with a claustrophobic and gloomy feeling. After the 6 kilometers long pass that we made slowly because of the speed limit, we were in the Eastern Greek Seas.
We would sail towards the Eastern Greek islands which I can almost call Turkey because of the similar tastes and cultures of both countries'.
Our First Stop, Athens
I'm afraid I will not tell very impressive touristic words about Athens. As for me Athens was not the capital of Greece, cultural treasure or Acropolis but became the next stop after Corinth as like all the boats entering the Aegean Sea. Because when you reach the islands you will not find everything you desired for unlike in big cities, even if you found it, your boat will be anchored off shore as there are no large marinas in islands, therefore you will find it difficult to transport the things if you do not have a good tender. Because the wind, holding captive most Greek islands, will make it difficult for you to move.
Last year after Corinth we docked in Flisvos Marina. This time we entered Marina Zea. Zea is a lot smaller but containing vibrant cafes and bars making you feel that you are inside the city more and I must say a little bit boring marina.
I did my major shopping in Athens where we stayed for 4 nights. I purchased fish after consulting with David Buchanan who is the chef of my boss's 82 meters long other superyacht.
David is a well known name in superyacht world. Although being young, the accomplishments in his career has reached to the top of Mt. Everest. The Royal Family of Britain's Palace in Edinburgh, Baron of Lee Castle and one of Microsoft's founder Paul Allen's house in Provence, France the Villa Maryland are some the locations where he worked as a private chef. In yacht business, he worked as a head chef in 60-70-100 meters long superyachts. He is now the head chef of my boss's 82 meters long superyacht.
Next day we departed for Mykonos, the most popular among the Greek islands… In October I will fly your pages with the winds of Mykonos.