It is size, not function that matters!
Sail Yacht or Motor Yacht? That is the question!
If Shakespeare was a sailor, this would be all he cared about. Because this is the first question that comes to the mind of a person caught up in the marine world and has spent either three cents or three trillion cents on it.
The ones unfamiliar with the concept think that the guy prioritizing comfort picks motor yacht and the guy who likes to suffer picks the sail yacht. But you never know without the experience! You first have to step on that boat, sail with it for a long time, experience having lunches-dinners and sleeping en route, stepping down on the tender boat, coming alongside of the marina, jumping in the sea and swimming and then you can talk about comfort as you like.
Considering superyachts, the motor yacht provides comfort fit for kings, but a sail yacht is a sail yacht! Both are satisfactory in terms of comfort zone and luxury but it's worth to witness the grandeur of a 40-50-meter sail yacht once it hoists its humungous sails and every sea lover should experience to cruise in that sail yacht.
The price increases as the size increases. So the story about "function, not size" is hardly applicable here. You need to talk in terms of the size of your boat. But no matter how many meters it is, the reality is as follows:
Sail yachts are narrow; motor yachts are wide.
Well, when you have a sail yacht of forty meters, you can't really complain about an discomforting tightness, so it's still quite comfy and can hold eight to ten people apart from the crew. However, if we compare it to a forty-meter motor yacht, because of its anatomy, the motor yacht always comes first in terms of width! A forty-meter motor yacht holds more  guests, twice the crew and you get twice as much storage and living space.
A 40-meter or above sail yacht has different entrances for owner-guests and crew. It has 4-5 cabins" including the main cabin also called the master cabin (which is the owner's bedroom). The other cabins consist of a second bedroom with a king-size bed and two more bedrooms with separate beds for the guests. There is a large living room, big screen TV and music systems, a big kitchen called Galley, in the crew zone, the crew's living room called crew mess with a dining table, 3 crew cabins with TV systems and bunk beds and the captain's cabin. Naturally the boat's inner design, including the number of cabins may have been changed to the owner's taste and furnished accordingly making it either very casual, modern, minimalist or pretty classic.
You have even more comfort zones in a 40-meter or above motor yacht. Firstly, because the width of the yacht is twice the sail yacht's and it can be consisted of levels like an apartment building, therefore you naturally get more living space. Especially if the boat is over 70 meters, it's practically a cruising hotel! It includes more than 10 guest cabins, all lapped in luxury, splendid bathrooms, Jacuzzis, a separate Jacuzzi and pool on the deck, different bars inside and outside and huge dining tables with 10-20 people capacity, luxurious living rooms in every floor, gyms, and above all, an indispensable private helicopter on the deck!
The bigger yachts have a separate gym for the crew. They have crew cabins as large as a 20-meters long yacht's master cabin and can hold 15-20 or more people. Nope, you haven't misread, even the crew cabin in a 70-80-meter superyacht is as large and comfortable as the master cabin of a 15-20-meter long Azimuth, which is worth 1-2 million dollars. Because the superyacht itself is worth more than 50-100 million dollars. Of course a boat this large has a kitchen with a restaurant's capacity and professionality that can serve a 15-to-20-person crew, even a 50-person crew and 15-20 guests in a boat over 100 meters, a living area that provides the space and comfort for that much crew to spend their whole lives in, and also a laundry, an ironing room, all in a hotel's comfort and a system with no requirement to go ashore.
Anyhow, even the engine room in these boats is wide enough to wander. The boats this size employ engineers who are capable to fix the most crucial breakdowns without going to the shipyard while crossing the ocean and during long cruises and they have their offices in the engine room. The engine room is also connected to a wide space which has a tender entrance that according to the boat's size and luxury holds one or two motor yachts, million dollars in value themselves, with 5-10 people capacity to carry everyone on the boat to the land when the boat anchors off shore. That entrance opens directly to the water. That part of the boat also has the boat's other so called toys, jet-skis and water kayaks, kitesurf, diving equipment and all other water toys. We, as the Crew, place out bicycles we use at the ports, it is that spacious.
You get the sense of the sea more in a sail yacht.
By one hundred percent! Compared to a sail yacht, where you sail accompanied by the wind whistling in your face, cruising and swinging by the dancing waves, feeling the sea to your bones, the motor yacht gives you the feeling of moving in a box at a standstill. It's kind of like a ferry (Calling millions of dollars' worth superyachts ferries…shame on me!!!)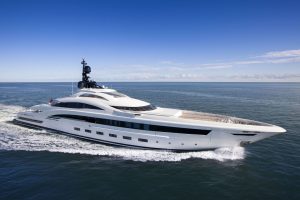 Is this a bad feeling? No, not really. I'm only describing the sense. It's a matter of choice. Some take it as comfort cruising on the water without any movement. Some describe cruising without any engine sound, in the fastest speed allowed by the wind as the world's most privileged comfort.
And there are Catamarans. What is a Catamaran? Simply, we name boats connected to each other as catamarans. It is actually a primitive invention originated from Sri Lanka and Polynesia. So we can call it a version of two canoes connected to each other managed by a tiny oar. Who could tell these primitive canoes could lead to modern versions designed as ferries or luxurious yachts… If you ask the difference between a catamaran and a sail yacht, I can tell you about the feeling as a person who lived in it for a long time.
The space! The difference between a Catamaran and a Sail yacht is of course their width, because catamaran means two sail yachts cruising simultaneously. When you buy a catamaran, you kill two birds with one stone. I personally am not fond of it, but for some, catamaran means reaching the comfort of a motor yacht while enjoying the pleasure of a sail yacht.

If you ask why I don't like it so much, the answer is it has an uneasy back and forth swinging feeling unlike the right and left swing in a sail yacht. So it's kind of like you're swimming a wedge in the water. Besides, it does not work out for its own salvation like a sail yacht in bad weather. Then the sailing pleasure makes no sense! So in my opinion, a comfortable motor yacht is more preferred than a catamaran. The boat owners must be thinking the same, because I've hardly seen anyone buying a luxurious catamaran that's also satisfying in size. The owners either buy the most luxurious motor yacht or a sail yacht. 15-20-meter catamarans are generally for business utilized in the leasing system called charter. What does this mean? It's kind of a retirement plan for old captains or captains that have nothing to do with the superyacht world, especially in Bahamas and the Caribbean islands. They buy a 15-meter long catamaran and turn it into a not that much luxurious but comfortable service space for tourists who rent the boat for 5-10 thousand dollars a week. Particularly in a place like the Caribbean islands, with crystal clear waters, the tourists who do not desire to get stuck in a single hotel, become able to do island hopping for an average hotel's price with this method. And as a bonus, they have no sail yacht rocking.
So if you happen to with to buy a boat, you can't start with visiting an indoors expo fair in the middle of the city and looking inside out-of-water boats. What I suggest is, instead of dreaming about the boat you wish to buy by looking at the cool yachts in the magazines and imagining comfort is the luxurious boat furniture or the sunbathing beauty in the ad lying on the boat with her bikini, you first spend some time in your friend's yacht and get some experience, and then reach inside your wallet.
Happy cruises…