Knot Knot Knot'ing on heaven's door
We are the one who check the Knot as if checking the watch before an important meeting. In a Wally sailing boat, you can view screens displaying the wind speed, like wall clocks in a house. I did not catch a glimpse of a normal value on these screens since we have arrived Mykonos, yes, it is a mother of a storm!
With the wind speed oscillating between 30 and 50 knots, I sometimes imagined myself in the shoes of Juliette Binoche in Wuthering Heights, rather than Tom Cruise in Cocktail (if there are some readers who still can remember Cocktail, then damn it, my age might be revealed!). While trying to pull myself together, imagining of my dear Milano, where I live in my leisure time, my mind immediately remembers the turbulences that from time to time shake the plane, making some young girls cry, reminiscent of the TV show Lost.
On the other hand, this should not discourage you to come to Mykonos to have your holiday. This was being in the middle of the sea, so pretty normal. As the wind gets weaker on the shore, you will not feel the perpetual autumn like me. Still, it helps to check which side of the island is exposed more to winds. So, what you should ask to the receptionist at your hotel should not be primarily about the most famous beach on the island but about the beach which that day is exposed to less amount of wind. Otherwise, in your holiday videos, you risk looking like a shipwreck victim trying to reach the shore rather than the beauties swimming in smooth sea, FYI.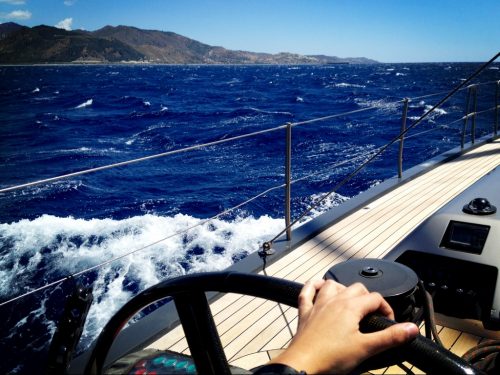 What does wind bring to a chef? Hardships of shopping. I am at a port which can accommodate only 3-5 boats, "old port", a marina only in name. Our only prospective asylum is the "new port", but it is a marina which cannot accommodate more than 20 boats other than Cruise ships and ferries! This means that we have to stop at the coves. The size of our Wally Power 47 Gesen did not make our lives easier. But since the wind sometimes prevented even the tender to berth, I remember carrying food parcels on a zodiac boat. I felt like a pirate trying to escape the sirens, rocking and getting wet from head to toe.
Without further ado, I would like to talk a bit about the shopping venues. Flora supermarket stands out as the best place to find highest quality products, just opposite the airport! Other than that, the AB market which has some branches around the beaches is also a benefitting. Inside the city center, there is a great grocery and a butcher shop. In the alleys, you can also see small markets or kiosks. I have my favorite fisherman, but if you would like to go there on your boat, I would recommend the one at the entrance of Ornos Beach. Here you can buy various sea food, and fresh! Mussels, calamari, fish… A mini market is gathered in the central beach of the island, consisting of a few villagers selling their great, organic tomatoes, eggplants, as well as some fishermen selling their morning wrath. The market closes at midday.
So much to write, so little space. Should I continue with beaches next week, or should we continue with other islands? I think it might be better to talk about beaches next week! Chef's promise!