The sea like my name and me… And Mykonos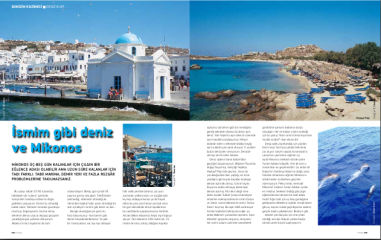 This is written at 07:30 literally on the sea while travelling to Sardinia Island from Sicily.
The sea is calm like it has never been before. While sitting on the deck and my laptop in front of me, I am listening to the gentle splashes of water made by our boat as it caresses the sea. I am in the middle of the Mediterranean and in the middle of my life. A couple of days later I will turn 35. I am living a moment where there are no phones or internet just the two Seas. The sea like my name and me…
As you are a Naviga reader, you probably know this feeling. In other words you feel the sea like I am right now. You either are wealthy and have an gorgeous motor yacht travelling from one coast to another, or you are an experienced sailor travelling with your wind again from coast to coast, or the life has not guided you through these roads yet, but you travel your sailing dreams from coast to coast within these pages, who knows… However all of these amount to the same thing. Meaning whether your boat is 100 meters long or 15 meters long, whether you set sail with a borrowed rowing-boat from the coast or whether your occupation leads you to a life on sea like me, the sea stays the same. We all share the same dreams on the same sea. The million dollar yachts and shabby fisherman's boats stand side by side on the same waters. Therefore I love all sailors. All the persons who has chosen to be on the sea.
I think my love of sea is a heritage from my father. My father was born and grew up in Florya, a district at Istanbul's coast. His youth was spent in Yeşilköy Haylayf beach. What he did from childhood is the same as what I have written just above. Maybe he did not own an expensive speedboat like 70's movies with a setting in the famous French Riviera, and Brigitte Bardot did not sit behind him, but his love of the sea began with sailing small rented boats. Later he never bought a car and continued sailing while he met not Brigitte Bardot but my mother who resembles Sophia Loren more, and firstly he named his two daughters "Derya" (Derya means ocean) and "Deniz" (Deniz, me, means sea, as you are well aware of) then he continued this love by naming his boat "Deniz", and he still nurtures this love of sea. If names define our destinies then travelling through the Mediterranean accompanied by dolphins today, passing through Atlantic in the coming winter and the chance to see the entire World from the sea do all happen thanks' to my father. Even though after he read this article he will say "maybe we shouldn't have named her Deniz" as he misses me…
As Naviga is a monthly magazine, it is a little bit hard for my articles to catch up with our cruising speed. Last month I wrote about our arrival to Greece, but for three months we were sailing among Greek Islands with Mykonos at our center. However I could not leave out all these adventures. Although we are now sailing towards Italy's Sardinia Island, I do not want to skip to autumn without recounting Mykonos.
Ok, what and where is Mykonos? Is it a holiday island most famous among Greek Islands and renown with its crazy parties? If you come to Mykonos for 3-5 days for holiday then of course it is. However if you stay there for 3 months like us then it is easier to experience the real taste of the island.
From yachting world's point of view I can say the Island houses many superyachts. The first challenge for the yachts is that there are no sufficient marinas. The old port at the center while befitting its name, can only accommodate a few boats and it is more like a pier. The new port is established on a large area for docking of Cruises and ferryboats travelling between the islands, however the space allocated to boats is still insufficient. Therefore you look for a place among the coves. In July and August, even this becomes harder. Therefore before you are coming to Mykonos with your boat (or your captain comes for the first time) you should know the names to call first in ports then in coves well. Superyachts already know what they will do.
The second challenging thing is the crazy wind up to 40 knots when we anchored in a cove. As well as we never left the boat alone, we had to change our location a couple of times. And for me, the wind caused great trouble while I was carrying a thousand packages of supplies to the boat. Although we had on our side the giant Wally Power 47 Tender, there were times when the tender could not come alongside the boat, and we had to carry the packages with a small tender.
The hardships of shopping in Mykonos begin immediately on land. If you are travelling with a small boat, it may not be a problem because your requirements will be less. However, if you are on a big boat, then it is something else entirely. You can find the most quality products on the island in Flora Market located across the airport. Furthermore average sized markets are available in the city center and the bays, and you can find everything there. The problem lies in carrying these. There are only 35 taxis working in this huge island, and you may wait up to 40 minutes to get one. Of course we had other solutions. You need to have a kind of pirate taxi in your hands if you are shopping extensively. Besides every big yacht use these same persons.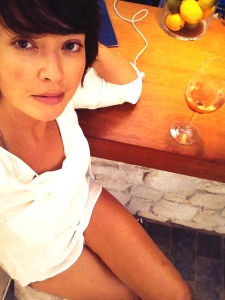 Can I explain Mykonos totally with these tidbits of information? Of course not… However pages will not be enough to write one whole summer. Therefore let's continue with our recipe of the month.
POLIPETTI AFFOGATI
For me, baby octopus is the most delicious of the octopus of the world. As the Italians are well aware of this fact, they do the thing they love most and cook octopus with tomato sauce, making it a lot tastier. Polipetti Affogati meaning drowned baby octopus is Campana Region's traditional dish. When I serve the octopus cooked in scarlet tomato sauce with a bright yellow Polenta, I also get the colors of my soccer team, Galatasaray in this delicious dish.
1) You put two spoons of olive oil in your medium sized lidded saucépot. While it is cool put 2-3 finely chopped garlic cloves. After the oil got hot and the garlic begins to sizzle (be careful, they will burn in a blink!) put the octopus inside. The amount is up to you. This depends on how many you will serve, who is thin and who is voracious.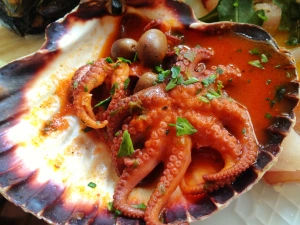 2) The octopus will begin to roast a little bit of shrinking while a little bit of gliding. As you are stirring the octopus and changing their place, they will glide towards outside then they will shrink and cook taking some weird forms. Don't worry. One or two minutes later throw in olive oils cut in half and seeds removed (I only use Ligurian olives), or if you want to cook it without olives add only capers and continue roasting the octopus.
3) A little while (5 to 6 minutes) later we add the tomato. By saying tomato, I mean fresh tomatoes chopped in cubes if you have very fresh scarlet tomatoes, or canned san marzano tomato as I do. I mash these tomatoes inside the saucepot with a wooden spoon or a masher you use when making potato purée. But do not make it like a purée; it needs to be thick enough so that you will feel tomato pieces when eating.
4) After adding sea salt and one or two bay leaves let it boil then lower the heat and cook it for 45 minutes. As the tomato turn into a sauce and the octopus literally drown and soften our dish is ready. Traditionally it is served with polenta in Italy but you can cook a simple spaghetti serve with the dish. Buon appetito!