Middleburg
While you are reading these lines I don't know where I am, but as I am writing these lines, I want to take you away to where I am. Although unlucky in terms of season, it one of the most beautiful towns in the world. Middelburg!
Why unlucky? Because this town, although located at the southern regions of the country, that country is unluckily in too northern part of the world. I am talking about Holland. While you are swarming the streets in t-shirts, I still wake up to a rainy weather dancing between 8 to 12 degrees.
If I have to explain the reason why I wake up each morning freezing and go to the shipyard instead of drinking champagne on the deck of a superyacht cruising in the Mediterranean, this part of our job as well.
Holland is one of the leading countries in building superyachts (a quick reminder on the definition of superyacht: private yachts with lengths ranging from 40 meters to 200 meters). And these magnificent babies that we work in needs to go to a coiffeur and undergo maintenance in the shipyard. Their technical malfunctions are solved and their interiors are renewed. And these girls are made more super becoming top models. You know more or less why I speak of yachts as girls. Because they are females. They are referred to as 'she' in English. And you can call ours as the breathtaking supermodels of yachting world. And as being the crew of superyachts, we may sometimes join in to a boat undergoing construction or maintenance still in a yard. Then our shipyard life begins.
Middleburg-7Of course we cannot start living in boats undergoing maintenance. Therefore we have a house or houses in town and Middelburg is one of those towns.
Living in Middleburg is like living in a fairy town. On the first day, I went out for a walk, and after seeing the roads under the shades of trees, small channels encircling and crisscrossing the town on which small boats sail and a few swans swim, residents going to wherever they are going by bikes, serene streets and box like houses with gardens look to be made of sugar from which Hansel and Gretel may come out in any moment, although I have been to and lived in virtually every part of Europe, this town made me say 'Vow! There are lives like this too' especially for a person born to cities like Istanbul choked in concrete and imprisoned by chaos.
Nobody closes their curtains and locks their doors. They just leave their 2000 € worth bikes on their sheds just like that as there are no crimes and criminals in town. Nobody fights, there is no traffic, and the residents being very happy both with the politicians and living conditions only complains about the heaviness of the rain. And when turn on TV, the only news is about that rain.
While deeply contemplating on these thoughts, I reached to an opening and got very surprised as I reached to the borders of the town. The town ended! Did you ever reach a city's limits by walking? As the city ended, and I did not want to be devoured by a wolf, I took on I took on my little red riding hood and returned home.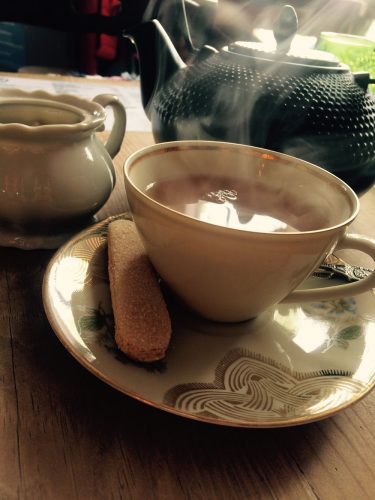 OK then, what is it outside the town? The ocean of course! These are the regions of Holland located on the shores of Atlantic Ocean. Middelburg is positioned somewhat in the middle and around it there are towns like Vlissingen, Domburg, Oostkapelle and Westkapelle having long shores opening to Atlantic.
Of course if you look at the ocean from this side, it is not very welcoming. I looked to Atlantic from the Caribbean coasts as well. I also looked at it from the lengthy shores of Florida, too. I looked at it from Rio in South America, even I looked at it at length on boats cruising through the Atlantic. I can say that I have a never ending relationship with the Atlantic Ocean. But the Northern Atlantic is cold and colorless! Last summer I also felt the cold of Atlantic to my bones while travelling on another superyacht 67 meter long from Monaco to another town in Holland, Harlingen located even further north than here.
Nonetheless, Hollanders come to these regions for vacation. In June the beaches will be opened, temperature reaching to a maximum of 25 degrees, and they say it will get crowded and the restaurants and bars around the beaches will get full. Ok it will get full, so what… Will 25 degrees and dull northern Atlantic shores satisfy a girl like me having a Mediterranean soul and coming from crystal clear waters? No it won't!
Then, until going south, let's taste the delicious sea food of here. I do not know what will happen next week. We will experience it together!