And God created Saint Tropez
MEGAYACHT GALLIES
Et Dieu… Créa la Femme is the original French name of the famous movie shot in Saint Tropez. It means: "And God Created Woman!". The woman we are talking about is the goddess of the 50s Brigitte Bardot. You have probably watched or heard about the movie.
The question of whether Saint Tropez is famous because of Brigitte Bardot or B.B because of this movie shot in Saint Tropez resembles the philosophical argument of chicken from egg or egg from chicken, however it is obvious that from 50's this small town began to transform into a phenomenon frequented by the jet set as said in gossip magazines. From these years you cannot walk on the streets of this village without bumping into a millionaire here or a billionaire there.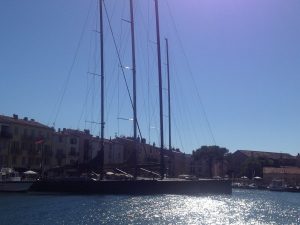 What is life like in Saint Tropez?
Is there a glittering atmosphere in so that megayachts worth millions frequent there? Yes, there is! Or no there is not! The answer lies in where you look at the town. You can find colorful old French houses retaining their unique quality at the town center and boutiques selling attire at their ground floors. And then there is the Pampelonne Bay. A cove that is famous and expensive beyond words! One time, the invoice of a megayacht guest's daily expenditure in world famous Nikki Beach located in Pampelonne was on the internet. It was 150,000 Euro! On the list, there were bottles and bottles of Dom Perignon, Crystal champagnes, lobsters, caviars and two glasses of tea at the end. Like a comical irony. "We should not have drunk those last teas!"
This is Saint Tropez's standard rich side… Putting aside this magazinish life, there is a normal life going on too, showing its color especially in the mornings when not a single tourist begins to walk on the streets. This side of the town is best known by us, the megayacht chefs. If I were to buy daily fresh fish and as I want to select them myself, some mornings I hop in the tender and go to the local (and expensive) fish market located at the port. Talking Italian in Southern France is a lot more convenient than talking English.
For the last five years the fisherman has been thinking of me as Italian, no need to correct him.
 I have not puzzled out whether his greeting me with a big smile shouting Buongiorno Belissima is that I am actually a Belissima, or a megayacht chef spending a lot, but I load the giant fish, lobsters and shrimps then I visit the bakery store, the Boulanger selling fresh baked hot baguette breads and crispy croissants.
Contrary to the fisherman, the girl at Boulanger's counter welcome me with an insinuating look implying "you again!" as everybody was buying one or two croissants, I would be purchasing 100 croissants and 30 breads, occupying her and causing a line in front of the only open bakery in that small town! As I generally cook from my frozen store at the boat, I do not do this everyday, but it is true that I wipe out the morning production of bread and croissant of small towns in my visits with 2-4 days' intervals.
And this is the morning of Saint Tropez. On the streets, only the store owners, empty bottles in front of clubs witnessing the previous night, garbage men, cleaning workers and us, the megayacht chefs with radios hanging from their waists and shopping trolleys in front…
BOAT OF THE MONTH
MAIN

Fashion giant Giorgio Armani's 65-meter superyacht. It was docked in Saint Tropez Marina while we were there. With its jet black "cool" stance among boring white boats stacked like multi-level wedding cakes, it screams that it is a special design yacht. Not only its interior but the whole superyacht was designed by him. He created very exclusive, with very sophisticated lighting scheme and living grounds but simple and practical spaces. Alas, Armani brand is identified with its simplicity, elegance, comfort and function as well. I have not had the chance to work in this yacht (not yet), however I had prepared a plate for him while I was working at the Nobu Restaurant in Milan of which he is a partner.