MEGAYACHT GALLIES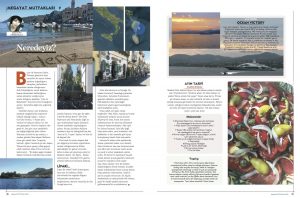 This is how our life is… While we have a very much envied job because we travel around the world, what actual happens is we even do not know where we are as we just stare for hours and hours to the chopped carrots and aubergines, and for so many times we turn up our nose to the fact that it is "Bahamas again!" after we are finally able to raise our heads from the chopping board and see the cove the boat has anchored in. Let's not say it is sauciness but workload.
Especially when the client pays 1 million Euros per week for charter, in other words rented superyachts and megayachts, they probably have a mindset that "I am paying that much money and only one week, so I'll visit everywhere", therefore I have so many times witnessed that we changed places with long distance travels each day. And as you know that Motoryacht is a fast thing, so daytime in Ibiza then evening at Mallorca, breakfast in Saint Tropez next morning, jet-skiing in Cannes at midday, party at Monaco evening, and traveling at night to Sardinia Island to enjoy a coffee in Porto Cervo… And so many brilliant ideas of the clients such as "Let's eat our dinner in Sicily by moonlight darling, then we will swim in Capri next day after" we had various charter cruises making us dizzy due to excessive traveling instead of the sweet excitement of a holiday. As I raised my head to see where we are this summer I told "St. Tropez again"; only me and the captain knows how many times we have been there…
At a moment like that again as we are hopping one place to another till evening, at the end of a day that I was not paying attention where we are due to the heavy workload, I went out to the deck just to take a look and to sip some coffee. Aa! Interesting… I don't recognize this place. Where are we? The best method to find out is to look at the smart phone's map.
LIPARI
Where on Earth is Lipari? I think I heard it before but let's check. If your high school geography is not sufficient in such circumstances, there is Uncle Google even at the middle of the sea.
Eoile is the biggest of the archipelago. I know these islands because of the Stromboli Volcano. In many occasions, we watched the crimson tip of the still active volcano in the darkness of the night while we were crossing from Italy to Greece.
Next morning, as I was curious about the island, I let myself come ashore under the pretext of "Damn, no parsley left". Aside from shopping, I was excited to add a new shore to my 'writing my name on sand' collection. The island is a typical Italian coast. Never a luxurious place, to the contrary silent and serene, local markets, sweetshops and the usual small local restaurants located at the coastline…
I am sure that there are more special restaurants at the other side of the island overlooking the sea from above and unfurling the most delicious and freshest seafood, but I did not have the time to discover them. Being the head chef of a 60-meter superyacht means that the time spent on the shore is limited to buying parsley only. Nonetheless, I did not neglect my pleasure seeking side, and sat down at one of the small venues on the shore to sip wine against the sea. This is why I love Italy. Although you are at the modest venue in the smallest town, you can catch a moment that will make you smile with a glass of good wine.