Can you live without the sea?

I am lucky. Not just because of the work I do. My luck is that three fourths of our world is covered with water! Whether is it the Mediterranean or Atlantic, whether it is the Caribbean or Pacific, the world is mine.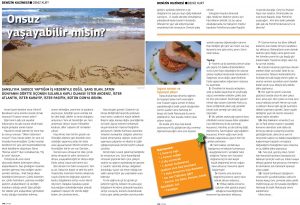 Sometimes you turn to your inner mind and ask: Who am I? Yes, I am here now, but where do I want to be really? Where do I actually belong?
If you travel a lot like me, these kinds of questions sometimes create small maelstroms around you.
The ones curious about my life always ask the following question first: "Don't you miss your country?", but what they actually wander about is whether I feel I belong to some place or not. Because humankind in general sense an incompleteness if they do not feel they belong to some place. When they ask: "Where do you belong to?", I reply: "Nowhere".
When I first went abroad for a long duration, of course I missed my country, my habits, to see my social circle and to taste what I usually taste… Now I do not know which country I miss. Because the place you long for is the place housing your memories, things you like to do, habits and the ones you love. If in every country you visited, you acquired new habits and acquaintances you love to see again; if you get used to that place's bread, cheese and wine, you see that you actually miss not one place but countries and moments. Meaning that the place you belong to literally becomes the 'World'. The distances shorten and languages cease to be 'foreign languages'.
There is only one inescapable truth: You can return to the countries you long for, but you cannot relive your cherished and missed moments! And there is only one place that I feel I truly belong to: Seas…
A shoreless country, a city without a coast, a world without seas, it is not a world that I can live in.
I love every state of sea. Right now, I am watching waves strongly beating a jetty on a shore opening its arms to the Liguria Sea just behind the Marina of Imperia, one of Italy's small but sweet cities. The waves caress the soles of my feet as they hit the rocks and reach my height. In my hands, pen and paper, around me the sea…
Today the weather is sunny. When I stare ahead I see a shiny blues see and small sailing boat far away, when I turn my eyes towards land I see a classical Imperia photo constituted by the colors of typical Liguria houses. People sunbathing on the beach, some playing volleyball, some insisting on surfing although the waves are not big enough and last but not least children enjoying the sea while running screaming from one place to another of course…
I also like the sea when it does not smile to me that warmly. Engulfing me by dressing pitch black in the dark of the night, being on that 'black' in a night lit just by moonlight, waking up at dawn when the waves calm down and doing nothing except staring at the serenity of the world or watching waves doubling in size and beating rocks shrouded in a gray cloak on a rainy day, blurring the sand as it retreats swiftly and returning back just as swiftly, and the boat becoming a part of that grey waves as it rocks up and down on open sea… From the shore, I even love to watch storms so great that I thank God I am not on Sea as it devastates everything on its way in anger. You well now Sea never jokes!
If we return to our current situation, we finished preparing our Wally for the Mediterranean Season. While you are reading this entry we will be around Rapallo near Portofino one of the famous towns of Italy. Though all of these shores are separately famous… Next I will write a bit about Rapallo and a bit about Portofino… Who knows, maybe I'll find my love in Portofino…