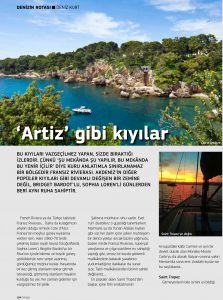 WHAT MAKES THESE SHORES INDISPENSIBLE IS THE IMPRESSIONS THEY LEAVE ON YOU. BECAUSE YOU CANNOT FULLY DESCRIBE THE FRENCH RIVIERA WITH DRY LIMITING WORDS LIKE "YOU CAN DO THAT IN THIS BAR, YOU CAN EAT THAT IN THIS RESTAURANT". THESE SHORES DO NOT HAVE AN EVER CHANGING ATTITUDE LIKE OTHER POPULAR LOCATIONS OF THE MEDITERRANEAN, BUT IT STILL CARRIES THE SAME SOUL FROM THE DAYS OF BRIDGET BARDOT AND SOPHIA LOREN.
The French Riviera… Better known as Cote d'Azur. Name given for France's famous southern shores. The shores in black and white photographs where Sophia Loren, Brigitte Bardot sunbathing with their big black sun glasses in bikinis. Who has been to these shores once previously will want to visit again while who has never been there before always dream about it, and for the regulars an indispensible chic…
It has a unique soul. Yes we can define this beauty as a 'soul'. It cannot compete with Marmaris' or Greek Islands' always welcoming sea but sometimes rainy and sometimes mystique French Riviera while hosts superyacht races and crazy parties, you can as well experience serene moments drinking your wine in a tranquil cove looking at magnificent mansions. Of course if you are not already an owner of one…
The most popular area begins at Saint Tropez, embodying Europe's capital of film industry, Cannes and a separate state, Monaco-Monte Carlo, end at Menton which is close to Italian border. And the shores in between are on these pages…
Saint Tropez
One of the most popular shores even known by name to those who have not visited before… Its center consisting of small yellow-orange buildings not touched since Medieval Ages with stores of famous brands and restaurants on their ground floors, and it is surrounded by luxurious 'beach clubs' like Nikki Beach and Le Club 55 and famous beaches. It has such popularity that during sailing races, a huge crowd from all around the world gathers here.
Cogolin
Marine des Cogolin, the marina where I most enjoy spending my time is here. Its center is away from the shore but Cogolin, it is the destination for the ones who cannot find a vacant place in Le Saint Tropez Marina or boaters like us looking for a quite place. Marine des Cogolin owns a small shipyard as well; it is a tranquil and pleasant town with good restaurants.
A little bit further away, there is a fairy tale marina named Port Grimaud with its small channels like Venice and colorful small buildings, again preferred by small boats.
Sainte-Maxime
A standard French town… Not a touristic or garish shore like Tropez, Cannes or Monaco, but where the town's residents can take their towels or a simple sun beds and go to the beaches to sunbath and read a book. In this area starting from Cogolin and ending at Cannes, there are no expensive beach clubs or superyachts; only quite public gravel beaches…
 Cannes
The host of Cannes Film Festival known by all… Getting full each year during the festival, it has a small center adorned by luxurious stores and magnificent old hotels. This year I was there during the festival, but I have to admit that if you want to enjoy the beauties of this region, you need to visit it another time. Because during the festival, the only things that you will see in Cannes are the crowds that are there for film stars and barriers erected on streets to prevent them, bodyguards making difficult even drinking a glass of wine in a hotel's bar and the cove covered by mega yachts for accommodating film stars.
Cap d'Antibes
It is the cove located before the town center of Antibes, and it is preferred by the likes of me and many epicure Europeans compared to Antibes. Because of its proximity to Cannes, it is the cove where superyachts are anchored and that are leased by film stars wanting to avoid Cannes' paparazzis and crowds during Cannes Film Festival. Shall I give you a secret?
Contrary to popular belief that film stars stay in 5 star Cannes Hotels where people camp, they prefer superyachts or Hotel du Cap-Eden-Roc in Cap d'Antibes. However this secret will not benefit to those who want to meet the stars as it is not even possible to dine in the hotel during the festival, of course if you are not already a member of this dazzling world or own a superyacht at least 60 meters long.
Antibes
One of the towns that can be called the heart of superyacht sector that I am a part of… Agencies providing a full range of services to us, meaning captains, chefs, engineers and crews in addition to all services regarding yachting like charter are gathered in this region. It is typical French town with its Marina, touristic stores and fancy restaurants.
Nice
I cannot find a lot to say about it because Nice is the most urbanized place in the region also including an airport. This big French city, allowing immigrants as well, is the center of business in South. At the same time, as it is cheaper, it is preferred by the people working in surrounding luxurious locations.
Villefranche-sur-mer and Saint-Jean-Cap-Ferrat
Now we reached the most beautiful and tranquil Riviera shores. Villefranche-sur- mer is a small town consisting again of colorful buildings untouched for centuries and a few fancy restaurants.
Besides being famous for its clean sea and beach, you can only enjoy these famous shores fully if you have a boat or a mansion nearby. Because Villefranche-sur-mer and Saint-Jean-Cap-Ferrat which is a peninsula, are expensive residential locations of this region being home to villas of various world-famous persons.


Eze, Cap d'Ail and Roquebrune-Cap-Martin
These coves located at left and right hand side of Monaco have a special status, as it does not belong to Monaco Kingdom but France. Like Saint-Jean-Cap-Ferrat, they are famous for magnificent houses viewing coves. A 100 sq.m apartment's price begins from 1 million €, and the price of bigger mansions with private gardens reach the prices of Yalı's on Bosphorus.
Monaco and Monte Carlo
A few sentences are not enough for here. Monte Carlo which is a sovereign kingdom is not only the center of gambling. The most magnificent mega yachts certainly visiting Port Hercules once every year, it becomes the center of superyacht world with Monaco Yacht Show organized each year on September. It is also one of the famous hosts of races of Formula Grand Prix. Monaco, being home to other various luxurious events throughout the year is the center of the world in Mediterranean. Le Louis XV which is Alain Ducasse's 3 Michelin starred restaurant like a palace and 2 Michelin starred Joel Robuchon named after its famous chef Joel Robuchon are located here. With its streets on which only Ferraris, Maseratis and Jaguars can be seen and with its 5 star hotels located in buildings like palaces, it is a world apart where luxury is lived in plain sight.
Its most interesting feature is that it is home to the world's most exquisite prison! Still actively run because it is a separate country, Monaco's formal prison is established at a palace like building at beachside that you cannot purchase no matter how much you have. If you cannot afford 5 star hotels that cost more than 1000 € per night, you can always benefit from the same view by committing a petty crime…
Menton
It is a French town preferred by normal people working in Monaco but cannot afford to live there. It is quiet and beautiful. Like Saint Maxime shores, it hosts a long public gravel beach and a modest lifestyle.
OK, how do I know all of these things? Because with our Wally, we toured this region from cove to cove between Saint Tropez and Menton beginning from April till the middle of July. I would love to write in more detail but my allocated space is not enough. While you are reading this, I will be running wild between Corsica and Sardinia Islands. See you soon in September on these pages from Corsica and Sardinia, the home of pirates. I will be adding a French recipe as well…