Capri in September is a world apart
I usually reserve exclamations such as "Oh My God, what a beautiful place!" which, for me, are for those places that really deserve it. This, I reckon, is a result of wandering not with the spirit of a tourist, but travelling with an eye for reality… It is some sort of an occupational deformation.
However…
Capri is beautiful! Capri is unique…
One of the most famous islands of Italy…
Situated opposite of Naples, the most convenient means of transportation to this island is by ferries from Naples, if you are a tourist. But if you are on a mega yacht like myself (then you don't need to read bwlow, as you must have been to Capri on many occasions!)… [pardon me for the disproving oxymoron]!!!
Because Capri is the most visited resort by Super Yachts and Mega Yachts.
While wandering in town center, you'll understand when you see the prices that (assuming that you'll visit the island on a mega yacht, that might be understandable, though)… [oopps, another oxymoron!]
My point is, you will see that Capri is a bit for the rich.
You can ask for advices to uncle Google about what to do, what to eat and where to go on the island. What I will tell you is the reality that can be seen through your eyes: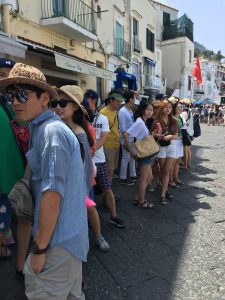 Since the town center is not situated on the shore but at the top of the island, a lift takes you up to there. To avoid the long queues, I would recommend you to take a cab if you do not have a scorpion in your pockets perpetually stinking you before you spend money. Everything is expensive on the island. Taxi costs 40 € for a 5-minute ride. The taxis are interesting with their design and does not need AC, like carts on wheel and engine.
The square in the town center is called Piazetta, which, in Italian, means 'the little square', like a smaller version of Piazza.
All the streets which are home to store departments of many famous brands start from this center. You can stroll along the streets, and have a wine break while enjoying the sight of the sea from above.
Like other beautiful islands, it has spectacular coves; that's why, it might be better to come here with a boat rather than backpacking on a ferry. I heard that you can still find boat tours with a reasonable price. I did not make a research on it of course, I am living on a megayacht!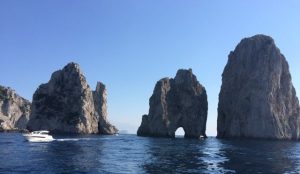 Its most famous cove is called Faraglioni. The rocks in the middle of the sea contribute a lot to its scenery. In Italian, Faraglione means a rock that was eroded by the sea, and its plural form is Faraglioni, the name of the cove. Again, if you have a mega yacht, you must have already know the rest…
If you are in pursuit of a secluded holiday, I wouldn't recommend you to visit the island in mid-summer. Itis packed with tourists on top of tourists at this time of the year, you might not even encounter a local. And Asians outnumber the other tourists. Americans do not seem to have discovered the place yet. I have encountered some French and other Europeans. I am sure rest of the Italians, who did not opt for Mykonos or other Greek islands, come here. This summer I was in Capri in July, and before this year always in Septembers. That's why I know very well that Capri in September is much better. If you are looking for a chic and enjoyable holiday, I recommend Capri in September…
If you have a mega yacht, Capri in September is a world apart!