Have you ever seen a whale near the shores of Colombia
Have you ever seen a whale near the shores of Colombia?
Or have you ever sailed through giant waves under moonlight playing Pink Floyd melodies amidst wuthering winds?
And have you ever thought that there is no need to picture happiness because you are actually living in that picture?
Yes, I am in the far side of the world. Looking from here, you are now on the other side. As you hop from one side of the world to another passing through oceans while the waves get bigger and bigger, you realize that farness, perception of time and even seasons are all relative. The world is vaster than it seems as you see it through your eyes, however the distances you feel and over estimate are a lot closer.
15 sailing hours away from Panama Canal, we are in Bocas del Toro where Spanish is the ruling language. To tell the truth, we are here for provisioning. Our plan is not to spend time in this bizarre holiday resort of Panama and on its grey seas under constant tropical rains, but to sail to San Blas islands which is an actual paradise.
Our voyage began from Antigua Barbuda Island, one of the foremost Caribbean Islands for the yachting industry. When I step from the plane in Antigua's tiny airport in order to board on our yacht, the sudden heat and humidity rocked me as I was coming from Milan's then New York's winter. Yet transformation from my winter clothes that I left in Milan and the last coat and boots that I left in New York to flip flops was a nice feeling.
Standard words are not enough to define this side of the world. The local Caribbean people's poverty mingled a little bit with drugs leads to a security problem that requires not walking alone even one hundred meters away from marina. In daylight, everything is normal, however during nights you have to be very careful.
Antigua Marina was more crowded and merrier than usual because of the Antigua yacht show organized each year. But I did not have much time to get merry as I had to shop for our non-stop 5 day voyage in Caribbean Sea. There are no big markets, where you can buy whatever you want, in Antigua and other smaller Caribbean Islands like in the Mediterranean, and what you have in hand is not that plenty. There is a huge market in Antigua, and you have to buy everything from there or else you are left to local street vendors selling five pieces of avocados and three pieces of bananas. Particularly, specialized and quality products that a chef requires need to be ordered and shipped via air cargo from USA or Panama to where you are. The hardest aspect of being a chef in Caribbean is this. As the storage spaces of big motor yachts are extensive, they fill their stores in Europe before passing through Atlantic or in Florida Fort Lauderdale before the Caribbean Season begins.
In sailboats, even if it is a 40 meters long super yacht, the storage capacity is for a maximum of 2 weeks non-stop sailing. One of the solutions I found to this challenge is to buy products from neighboring motor yachts in marinas. In other words I have transformed our Turkish tradition of knocking on the neighbor's door with a coffee cup in hand saying that 'our sugar is finished, can I take some sugar please' here into buying hard to find products such as fish, meat, etc.
After I finished my basic shopping in Antigua, we began our five days long open sea voyage towards Bocas del Toro. If you follow my articles, my back and forth trip in Mediterranean last summer might have seemed cool, but I can say 'what a boring trip that was!' from the instant I came to these shores.
Navigating in open seas on an ocean is something else entirely. Watching this magnificence while sailing with a dancing boat through real huge waves is a unique experience. And what's more, the thrill of seeing a whale matches the height of these waves.
Sailing a boat under the sun with my bikinis although we are in December, witnessing the cool winds of Mediterranean that makes us wear jackets even in summer turn into humid and hot air, seeing the quick arrival of the clouds of a tropical storm and feeling the piercing hot rains, getting soaked although wearing sailing jackets and overalls then fifteen minutes later continue the tropic sailing with ou bikinis on as if nothing has happened… These are all the interesting pleasures of this side of the world.
Bocas del Toro is a holiday resort that can be found in the tourism brochures of Panama City about which we do not have information other than the famous Panama Canal connecting Atlantic and Pacific Oceans. The region consists only of small islands connected with sea taxis of wooden boats driven madly by locals. Generally Black Latin American population, Mestizo Panamanians (Panamanian people who are of mixed European and indigenous ancestry), Panamanian Mulattoes and short Latin American brunettes with long hairs and an enormous poverty dominate these islands.
Here, you cannot see splendid and luxurious buildings, exquisitely lightened elegant bars and restaurants. Somewhere there is richness, but as it is in the Caribbean, the richness rules in hidden mansions on islands, individually owned islands and million dollar boats on sea. Aside from this, the local life is made up of small and miserable bars hiding their poverty with colorfully painted buildings or dominated by drug trafficking.
The back alleys that I have entered while looking for local fish vendors, damp and dirty houses, vendors turning their backyards into shops complete the picture of poverty. Mahi Mahi fish, lobster tails, octopus, calamari, shrimp varieties and yellowfin tuna fish were the quality local products that I could find.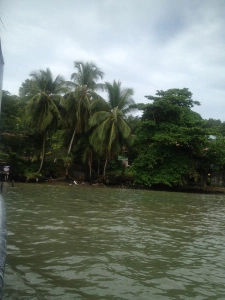 Provisioning, whales that I saw at the coasts of Venezuela and Colombia and getting used to cooking challenging food successfully while rocking in huge waves are the new experiences of this voyage for me. I can add to my memoir of pleasures eating Creole Cuisine's lobster cooked in coconut milk and Caribbean style rice near the ocean at the nice restaurant of Red Frog Resort in one of the islands of Bocas del Toro, then walking on the beach listening to the waves of the ocean at midnight…