MEGAYACHT GALLIES
Monte Carlo! Isn't even its name recalls a royalty, a richness?
Located exactly at the center of Southern France's noble coves kissing the Mediterranean, and although looking like a part of France, a principality declaring its independence during Prince Rainier's reign… That Prince Rainer, who once upon a time married the Hollywood princess Grace Kelly, the love of the century, making her a real princess, the Princess of Monaco… What an irony!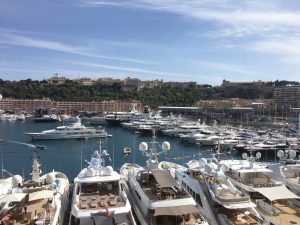 The second smallest country after Vatican, this rich country where we seldom encounter automobiles other than Ferrari's and Jaguars, is at the same time a legend for Formula 1 enthusiasts as Monaco Grand Prix is the king of these races!
I was there in this year's race as a megayacht chef. Because the bulk of the visitors constitute from yacht owners or rich racing enthusiasts who rent megayachts. Aside from the races, let's talk about what is going on these yachts.
Monaco GP is not only famous for the exciting races where all streets are transformed into the racetrack, but the after parties going on till morning as well. Most of the parties happen around Port Hercules located at the heart of Monaco. In order to find a berth in marina you have to make reservations months before paying unusual sums.
Despite this, marina gets full and boats park to a second line. Yachts more than 80 meters long prefer to drop anchor in the open sea. And then there is the protocol. The party at Monaco Prince Albert's private yacht. The party for which you have to pay a huge entrance fee although you are invited… The revenues of this special night are donated to a foundation.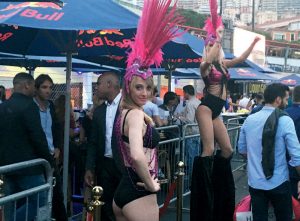 The parties in Marina bars are open to everyone but the parties in mega-yachts are definitely private! Celebrities, the essential presence of fabulous women with long legs and beautiful figures, and the crowds swaying on decks with their glasses of champagne… The elegant night starting with Dom Perignon ends towards morning in a haze of alcohol while the crowd are munching mini hamburgers and food that we call heavy snack. And your chef, of course, is ready on foot to serve all of these all night long
Next year, you will remember these lines while watching Monaco GP on TV or maybe you will rent a megayacht adorning your magazines, and I, as your chef, will introduce you my chic dishes. Who knows…
BOAT OF THE MONTH
DILBAR
So, where did we sail to after Monaco Grand Prix? To St. Tropez, one of the heavenly spots of France, also frequented by megayachts. In my next article, you will read about Saint Tropez's spirit, its streets, famous sailing competitions and the indispensable queue for bread that I suffer as a chef in the mornings. Alright then, who did we meet en route? Now that's a megayacht! 156 meters long DILBAR! Made by Lürssen Yacht. If you look up the dictionary you will see it perfectly reflects the meaning of its name in Uzbek, dilber, the beauty. Its owner is a Russian billionaire of Uzbek descent, Mr. Alisher Usmanov. You will remember him as the owner of Arsenal soccer team. Once, it was the biggest megayacht of the world. Now that record is held by 180 meter long Azzam of course. Hosting maximum 40 guests with its 20 guest cabins and 35 crew cabins accommodating an immense team of 80 crew members, it is a Goliath worth 600 million dollars.