Would you like some aperitivos?
I'M WRITING THESE WORDS ON THE DAY OF 'SPEAK LIKE A PIRATE(!)'. SEPTEMBER, 19TH. IT IS NOT AN HISTORICALLY SIGNIFICANT DAY. IT IS JUST A MADE-UP STORY FROM 1995. IT IS ONE OF THOSE HUMOROUS SPECIAL DAYS, WHEN YOU SAY 'AHOY, MATE!' INSTEAD OF 'HELLO' JUST FOR THE FUN OF IT. TO CELEBRATE THIS SPECIAL DATE, I WILL TAKE YOU ON A TOUR STARTING FROM ARISTOCRATIC COASTS OF FRANCE TO ISLANDS OF CORSICA AND SARDINIA, THE HOME OF PIRATES.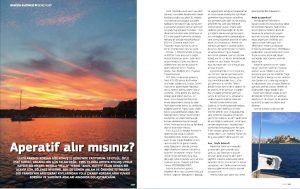 As we were having our chill-out in Saint-Tropez, after my boss's last minute decision we set sail to Corsica. I would love to continue this story as 'In the middle of the dark Mediterranean Sea, as our galleon was rocking from left to right through huge waves, we were fighting against the ghastly pirates that came out of the mists in their pirate ship…' However, we live in the year 2014 and thanks to our million $ boat, we covered 100 miles in 10 hours without any difficulty and reached Calvi, one of the better known ports of Northern Corsica from Saint-Tropez.
Corsica is a mountainous island with a 1,000 km long coastline and more than 200 beaches! I am sure you all know about the island's history as much as I do. What I know is that some of the first settlers on the island were Phocaeans. Yes, you are right. The people from Phocaea (Foça), Smyrna (İzmir).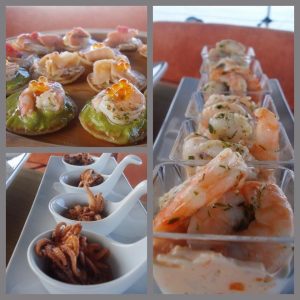 They settled the island in 562 BC. However, they were chased away by the Etruscans in 535 BC. That continued to be the island's destiny for a long time afterwards. One civilization came and soon was chased away by another… Then another came and underwent the same thing… Finally, during the WWII, the Italians took the control of the island for a while, yet it ended up being a French territory. Currently, Corsica is part of France. They say that the population here still do not feel that French, as they have been confused for centuries. Just like the Sardinians, they have their own flag, nationality and Corsican language, even though French is generally spoken.
Calvi is a really small town. It is a bay between some hills, where you can feel how mountainous Corsica is. It has a few little shops and cozy restaurants as well as a gourmet market. Even though it is quite expensive, it is still worth a visit! Corsica has its own regional pork sausages and several types of cheese. They are different than French products, stronger, tastier and not like anything else you could find on the mainland. The name of the market is Annie Traiteur (00330495654967).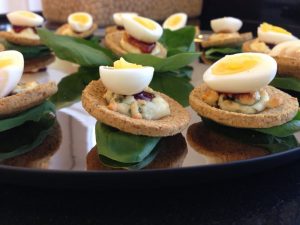 Ajaccio is Corsica's capital. It is a city big enough for an island. It is the city where Napoléon Bonaparte was born and raised and his house was turned into a museum and is open for visits. Even your chef aboard who doesn't like visiting museums had to check it out as we were already there. Apart from that, the streets near the port are full of restaurants where you can spend some quality time are also worth seeing. The gourmet street market is open every day until noon and there you can find some regional pork sausages, different types of cheese and many other products which you can't find elsewhere. Especially if you have traveled there by boat, the fresh fish is a plus, too. I personally don't like souvenirs much, but with Corsica's famous flag with a figure resembling that of the pirates, alongside hats and t-shirts with the same design, especially the pirate-themed cool accessories for babies made me get some for myself, too.
There are many exquisite beaches surrounding Ajaccio. This page will not be enough to list them all as each bay has its own beach. Well, and you must not confuse these beaches with the 'beach clubs' of Bodrum/Turkey. The beaches here are made up of fine sand and crystal clear water. There are no sunbeds or sunshades. That's why it is not enough to take only a towel to go there, you must bring your own umbrellas and water to survive out there under the sun!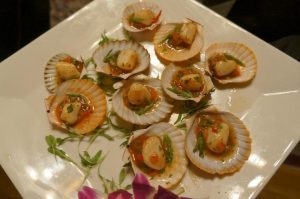 When you say Corsica, the first cities that pop up in your mind are Porto Vecchio and Bonifacio, which the strait between Corsica and Sardinia was named after. I was surprised when I heard the most famous cities of Corsica had Italian names. I even thought they were a part of Sardinia. Well, don't make me look it up now, but I am sure this has something to do with the island's complex history. Unfortunately, I could not visit those cities. As you know, I am not on vacation, I'm actually working. So I couldn't just go and ask the captain to sail there.
And… That's the end of the page!
I was planning to write all about Sardinia step by step from the North to the South; because this summer we discovered the not-so-popular Southern coasts of Sardinia. I did lots of sailing there and sailed the boat, too. But I will write about all that in my next article. I really want to write about Sardinia and all the hilarious things that happened there.
But enough with the travel blog. Now, let's talk about flavors!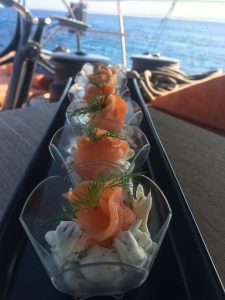 Well then, what is an aperitivo?
Actually, aperitivo is the Italian word for appetizer, but those who have been to Italy know that to be more than just a word. Aperitivo is a part of everybody's language and life there, it is a life style, and it is a culture. The social life in Italy starts at 7 PM, also known as the 'Aperitivo time'. For example, if you walk in a restaurant at 6 PM, you may not find anyone there. But at 7 PM, you can hardly find a free table! Most meetings and love affairs start at the Aperitivo time, not dinner time!
Italians serve several types of Italian cheese, salamis, different types of focaccio or many other kinds of cocktail snacks which we can call 'finger food' depending on how fancy the place is. They do not charge you for the wine platter. Sometimes, you have it as a buffet. Those are very similar to 'tapas' in Spain.
As my bosses are Italian, I prepare aperitivos on the boat almost every day. An Italian would never skip the Aperitivo time accompanied by a good wine.
I will give you some recipes to prepare at your homes or especially on your boats. Those are simple, easy appetizers that look great on the plate. I won't even tell you their names, because they don't even have one. They are just some made up recipes with whatever I have in the fridge that day. Then, we should number them.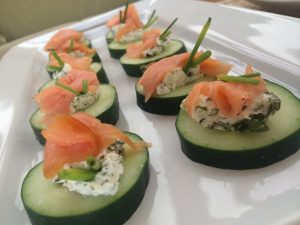 Aperativo 1
A light and fresh aperativo with slice of cucumber in the bottom, a sauce of sour cream, lemon juice and dill in the middle and a slice of smoked salmon topped by a piece of fresh dill. Keep them in place with a tooth pick.
Aperativo 2
Cut a circle out of a watermelon, top with fresh cheese, a few rings of pearl onions and season with balsamic vinegar.
Aperativo 3
Scallop. It is a favorite starter or an assorted appetizer. You need to dry them first or if they let their juices out on the pan, you are in trouble! Roast until caramelized on a hot pan with a little bit of olive oil. It should not be more than a minute for each side. I constantly check them to see if they are done. I do not check the time, but the food instead. If you overcook them, they will get rubbery, so be careful! Take them off the fire once they get caramelized. Do not turn the fire down, so they stay juice inside. Put some butter on them as soon as you get them off the pan. You can make a sauce with the leftover oil in the pan by adding some more butter, lemon juice and dill. There is no recipe, just try and see for yourself! It is approximately 3 parts butter, 1 part lemon juice…
Aperativo 4
Roast baby octopuses, baby squids or if you cannot find them, slices of a regular size octopus legs on a pan with olive oil and garlic. You may add capers and olive slices if you like. After roasting a bit more, add tomato sauce (or canned tomatoes), some water, bay leaf, salt, a teaspoon of sugar and balsamic vinegar and cook on low heat until soft. If you've got baby octopuses and squids, 45 minutes should be enough. You could serve it on small cups leaving the sauce inside or on top of toast bread while hot. My favorite is to serve it on Polenta (a traditional Italian dish made with corn flour and parmesan cheese)! I don't think you could find it there, though.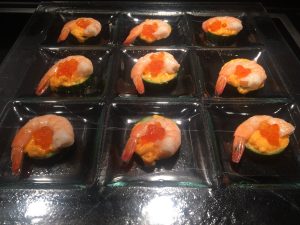 Aperativo 5
Boil the shrimps. Make a paste with avocado and lemon juice. Cut circles our of toast bread and spread the avocado paste, put the shrimps on top, finish with olive oil. You can add salmon caviar on top. The toast bread is a budget-friendly alternative.
Aperativo 6
You can prepare a finger food by roasting shrimps in olive oil and garlic for just one minute. Or you could put a piece of cube-shaped toast bread (crouton bread) and a shrimp on a tooth pick, put some mango sauce in a cup and place the tooth pick right in the middle of it. That looks really fancy, colorful and delicious!
Aperativo 7
Is it fig season yet? Perfect! Slice a fresh fig… Put a slice of fig, proscuitto or another kind of salami and some shaved cheese on it. Ready to serve!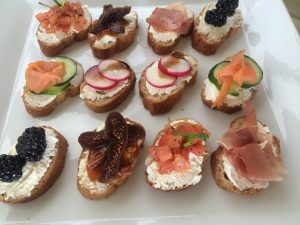 Aperativo 8
An Italian favorite: melon-proscuitto. You can prepare it in any way you like it, but one way to do it is to cut circles out of a melon, slice the circles in half, put a slice of proscuitto between two slices of melon. Or you could just cut them in squares or triangles… Really, who cares?
Aperativo 9
Let's create a Turkish version! Our favorite meat product is sucuk (a kind of spicy Turkish pepperoni). Slice the sucuk, put it on a tooth pick either raw or semi-grilled, add a slice of fresh cheese and top with a parsley leaf.
If it were up to me, I could write hundreds of recipes. If you let yourself free, you don't need recipes for appetizers like those. The options are unlimited. It is a great way to make the most of what you have in your fridge. Just imagine and create it!
In my next article, I will talk about my memories and anecdotes from the coasts of Sardinia… After that comes the Caribbean.
With love,
Your chef